Outside of the bedroom, the bathroom is one of the most visited (and under-utilised) spaces around the home. It's practical, sure, but it's also a place you can unwind, nurture yourself and extend the design reach of your interiors.
So if you've been thinking about a bathroom 'do up' but don't have a lot of cash to splash, we've got you, boo. Check out these 10 tips to inject a little magic into your hygiene sanctuary.
1. Clear the clutter
To see what you're working with, start by getting rid of any clutter. We're talking FULL blown spring clean – any good bathroom on a budget begins with a fresh canvas. Even the act of removing old hair care products, any broken drawer knobs and cleaning bathroom vanity cabinets can do wonders for the space.
2. Switch out clunky cabinet knobs or cabinet pulls
You already know how much we love cabinet hardware. Switch out rusted or clunky knobs and pulls for newer, more contemporary styles – these kinds of small details can give your bathroom a whole new lease on life.
As an example, take a leaf out of @myrealrenos who has added our White Oblong Knob With Brass Trim to their cabinet handles to enhance the classic boho vibe.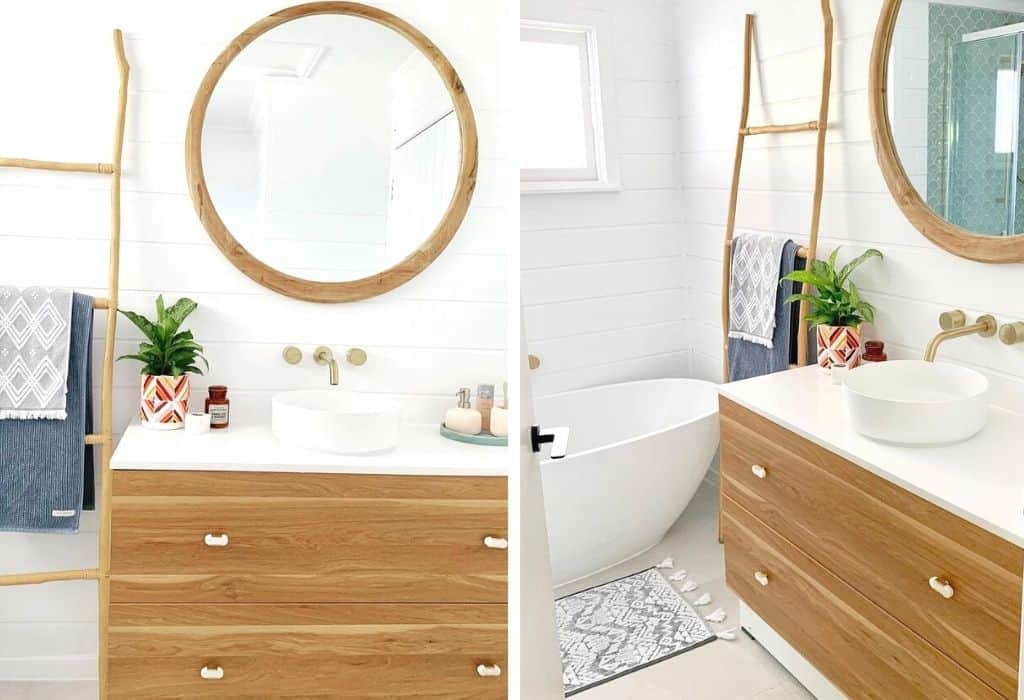 3. Upcycle furniture for that handmade touch
Fancy a bit of DIY? Upcycling is a rewarding way to breathe new life into your bathroom on a budget. If you're game, you could replace your vanity, just like Ainsley from @thesullivanhouse_ has done.
Ainsley added our White Marble And Brass Cylinder Pulls to a vintage sideboard she found, painted it black and added a new top. It absolutely elevates her bathroom to a whole new level of beauty, don't you think?!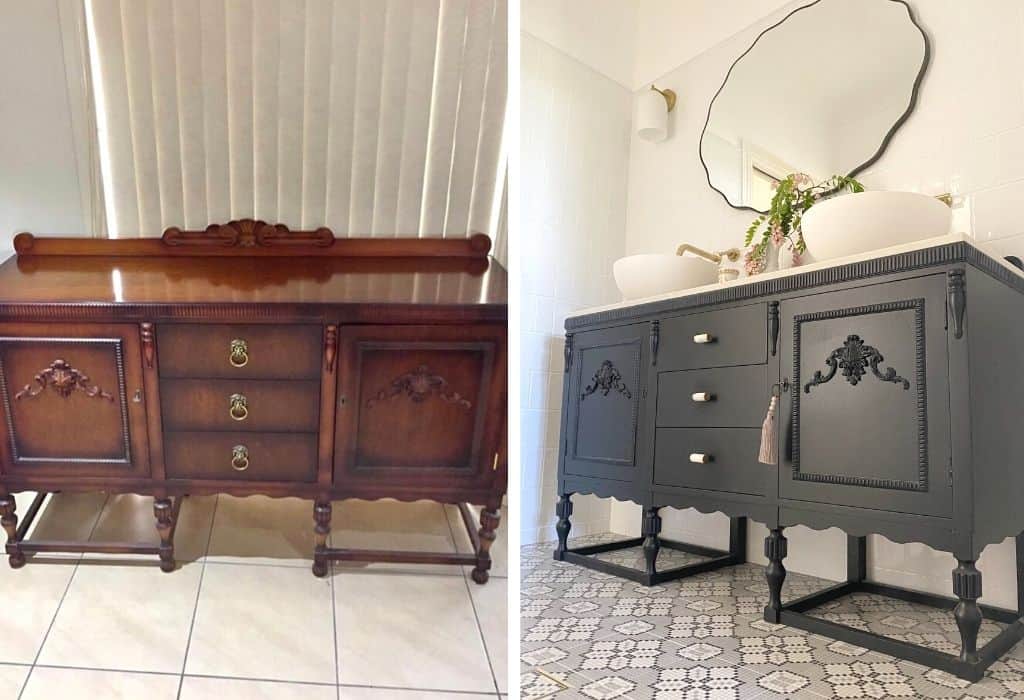 4. Give your mirror a makeover
Mirrors extend spaces, making them feel more spacious. If you've got a run-of-the-mill mirror hanging in your bathroom, consider framing it or choosing a different shape. Matching your mirror to your décor is a quick way to strengthen the design feel you're going for.
5. Update your tiles
If you're doing your bathroom on a budget, you might not have the luxury of retiling the entire space, but you can make small edits. To help existing tiles sparkle, resurface them with spray paint or replace the grout. It's low cost and you'll see the change immediately!
6. Add wall hooks for decorative storage
Just like our friends at @the_amber_light, you could add a decorative wall hook to your bathroom tiles to hang towels and other objects. Spot our Aztec Design Wall Hooks on the left of the snap below – made from sturdy ceramic, it's the perfect pairing to the featured tiles behind the shower.

7. Get wild with wallpaper
If you're in a rental or simply updating your bathroom on a budget, applying new wallpaper might be the way to go. You could theme it to your interior styling or keep it practical with a muted pattern or design.
8. Choose a calming or earth colour palette
Don't consider yourself that 'handy'? Get creative and paint instead! Often a switch up in your colour palette can dramatically change the mood of a room. For your bathroom, try calming hues, like blues and greens, to amplify the zen and turn that lacklustre bathroom into an at-home spa.

9. Replace your shower curtain (and hide the rod!)
No one likes a mouldy, faded shower curtain (I repeat: NO ONE) so do your bathroom a favour and replace it ASAP! And while you're at it, consider installing a track on the ceiling – it can keep curtain hardware out of sight, giving the illusion that the room is taller than it actually is (what a bonus!).
10. Colour coordinate your cabinet knobs with your décor and fixtures
This is a great trick for your bathroom on a budget. Just like Danielle from @sunny.coast.changing.decades, you can transform your retro bathroom in a few simple ways. Adopt a neutral palette with matching tiles and add in a vanity that coordinates superbly with your choice of cabinet knobs – like our Grey Two-Toned Cubed Knobs featured below. Chase those details with contrasting black accents that really pop and voila – you've got yourself a brand new bathroom (how epic is Danielle's handiwork in the snaps below?!).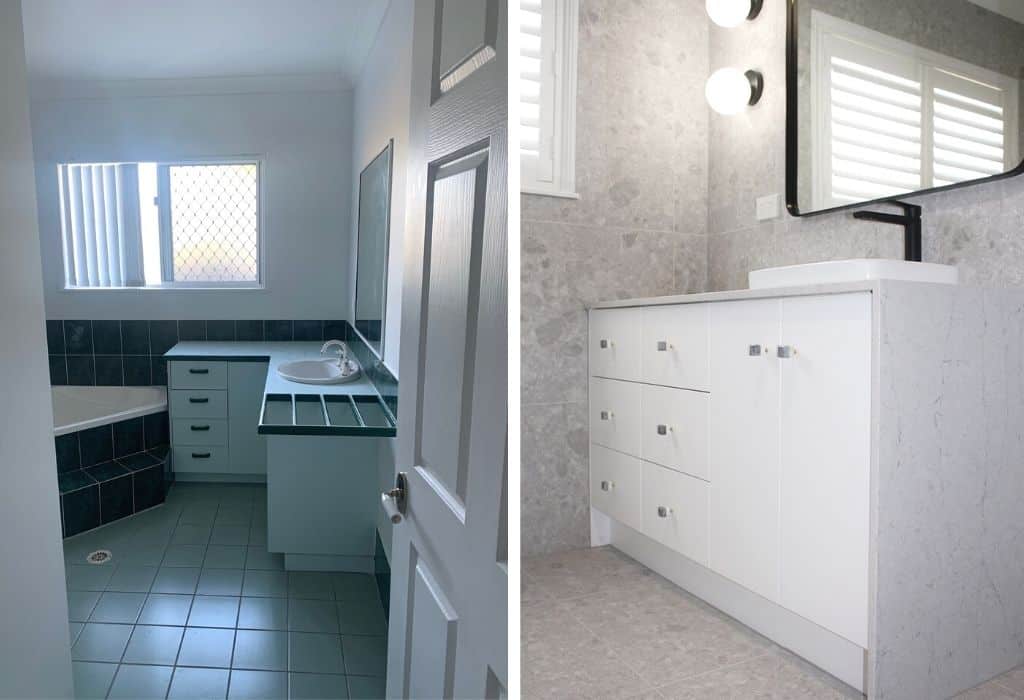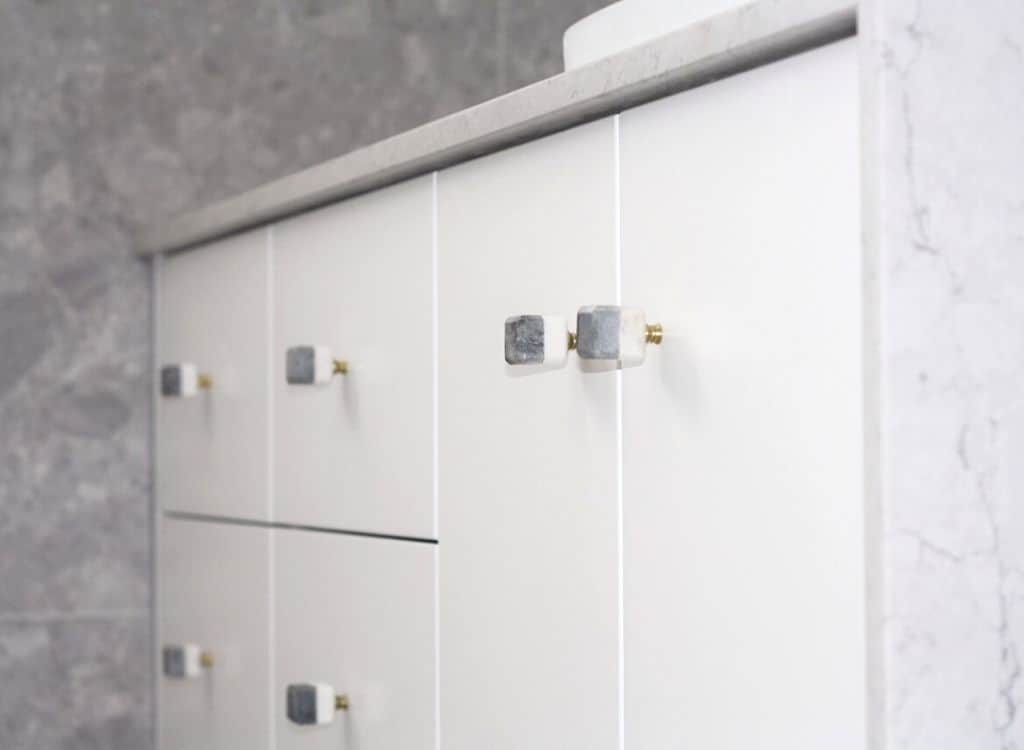 Find those finishing touches at Do.Up
No matter what stage your bathroom project is at, we've got a range of cabinet hardware – like wall hooks, pulls and knobs – to suit any décor or style. Take a scroll through our online shop for inspiration because you never know what might pique your curiosity and get those creative juices flowing!