Do you go B-A-N-A-N-A-S for Boho? We certainly do – it's why we're beyond excited to share the incredible upcycling by Tanya Wall of Beachside Boho Designs. Based on the NSW Central Coast (yep, we're jealous too), a quick scroll through Tanya's Instagram reveals her love of the shabby chic, beachside style with a touch of industrial and Boho. We were impressed not only by her style but also by her genuine passion for Do.Up products.
Meet Tanya Wall of Beachside Boho Designs
As a mum, Tanya has grown to love upcycling furniture and has taken it from a hobby into a full fledged business! When she's not transforming recycled pieces into works of art, you can find Tanya shopping up a storm, cooking delicious food for her family or pumping iron at the gym.
It's time to clear your calendar for the next 10 minutes so you can bask in all of Tanya's creative glory. Who knows, you might even walk away with a tip or two to kickstart your very own upcycling journey.
Tell us 2 truths and a lie about yourself? We'll keep the readers guessing on what 's the lie! 😉
I have 10 tattoos

I'm a mum of four and have four grandchildren

I've worked at the same childcare centre in the same job for 27 years.
What would you sing at Karaoke night?
I once sang Love Shack when I was younger – I would need lots to drink to do it again now though! Ha!
If you could trade places with anyone for a day, who would you choose?
This is a hard one! However, I think after being in lockdown for a few months during the COVID-19 pandemic, I think I'm happy to be me, seeing my friends and family again.
Aside from the necessities, what's one thing you couldn't live without?
I can't decide between wine or Cadbury Caramilk chocolate, haha!
What three words would your friends use to describe you?
Creative

Strong

Hard working.
Tell us a little about your upcycling background Tanya: how long have you been upcycling furniture for and how did @beachside_boho_designs come about?
I started upcycling all of my own furniture about 4 years ago. When I ran out of my own pieces to work on, I found a piece on Facebook Marketplace, refurbished it and it sold instantly! I then started to get contacted by clients to do commission pieces for them.
Flashforward to now and I'm so busy I'm booked up until August next year! I also find it very therapeutic, especially after losing my husband quite suddenly at the end of 2019.
Where do you seek your inspiration from?
Mostly I see a piece and ideas come to me. I also occasionally use Pinterest or grab ideas from other upcyclers and DIYers.
What's your favourite colour and material to work with and why?
Believe it or not, I love doing things in white! I also love to use greens and black. I love mineral paints and water-based products. My favourite timber is white.
How long does an average project take you to complete?
Depends on the piece, but on average about a week.
We see on your Instagram that you specialise in quite a few décor styles, including Hampton, Coastal, Boho, Industrial and Farmhouse. Do you have a favourite? If you had to choose, which style would it be and why?
It would probably have to be Coastal Boho. My own house is Coastal Boho in style and I love shopping for home décor in Bali. I can't wait to go back when we can.
How do you plan for an upcoming project? E.g. briefs, mood board or wing it?
I definitely wing it! Most times I go with it but occasionally I'll change my mind once I start.
If you could master any DIY technique fully without having to learn it, what would it be?
I would love to learn how to make Macrame, which is a technique that uses knots to create a variety of different textiles, like hanging planters.
What's your most treasured piece of furniture?
I have a little table that I upcycled. It's very simple but very sentimental. My husband built it at school so it will always have a special place in my heart.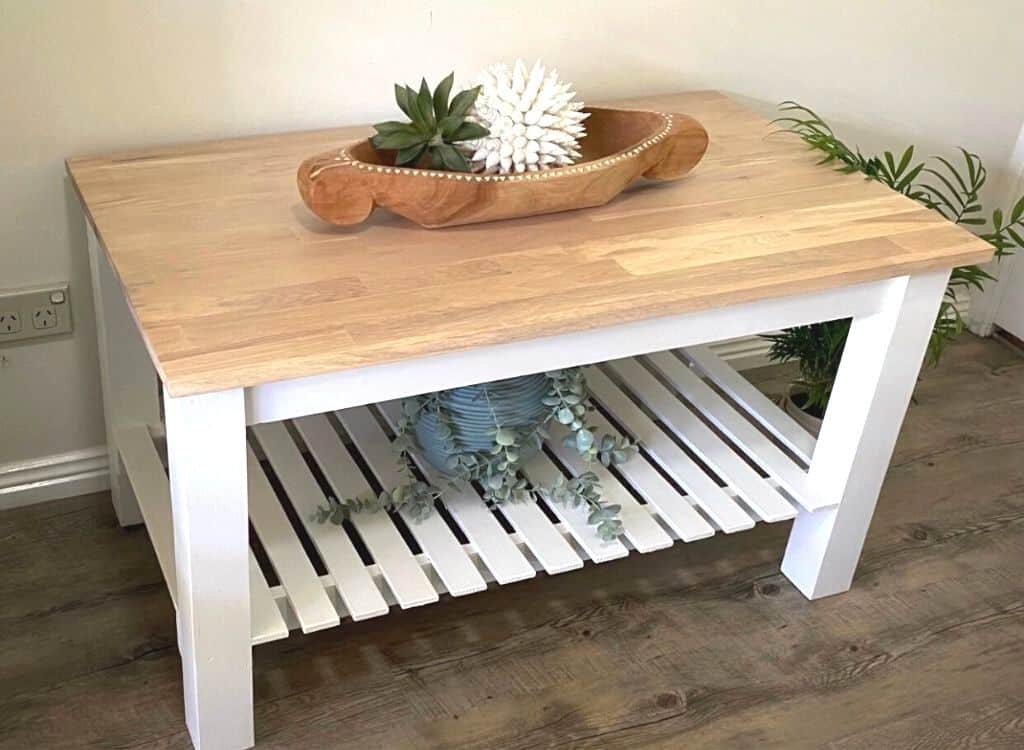 I also love all pieces made from Oak. This TV Unit is another fav of mine.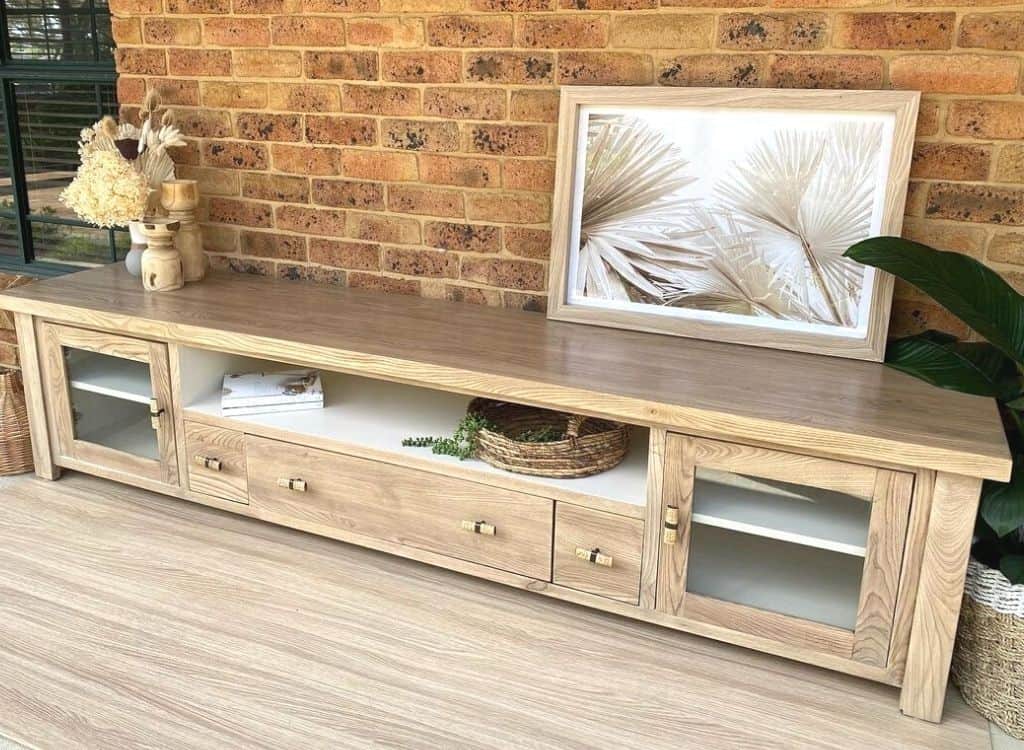 For our fellow DIYer's & upcyclers, what are your top do's?
Take the time to prepare – even though it's tedious, it's the most important step.

Do lots of research and watch YouTube videos on upcycling.

Enjoy the process!
Any don'ts?
Yes – don't ever skip the prep and don't rush, take your time.
We're a sucker for an amazing 'before' and 'after' and boy is your recent project a good one! Talk us through upcycling this beautiful entertainment unit: what was your brief?
My client asked for a nautical coastal look. So we settled on white with a light stained top. I used Puerco stain and glaze in Sepia to achieve the top. My client hadn't decided on pulls but loved the Do.Up Rattan T-Bar Pulls when I suggested them and they completed the look perfectly.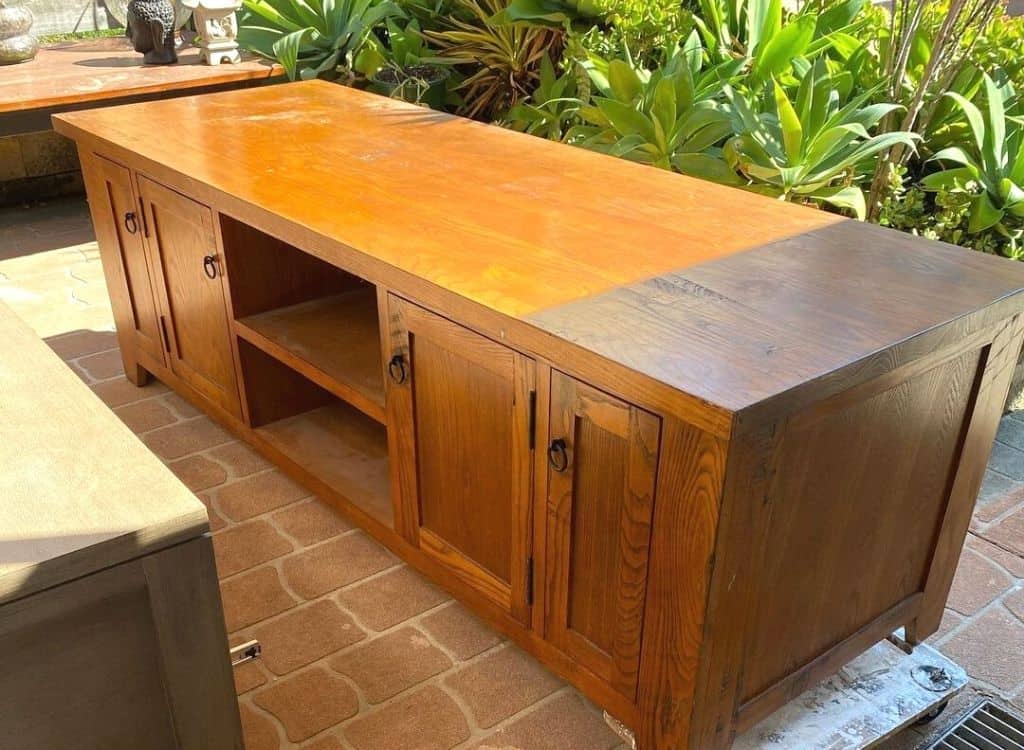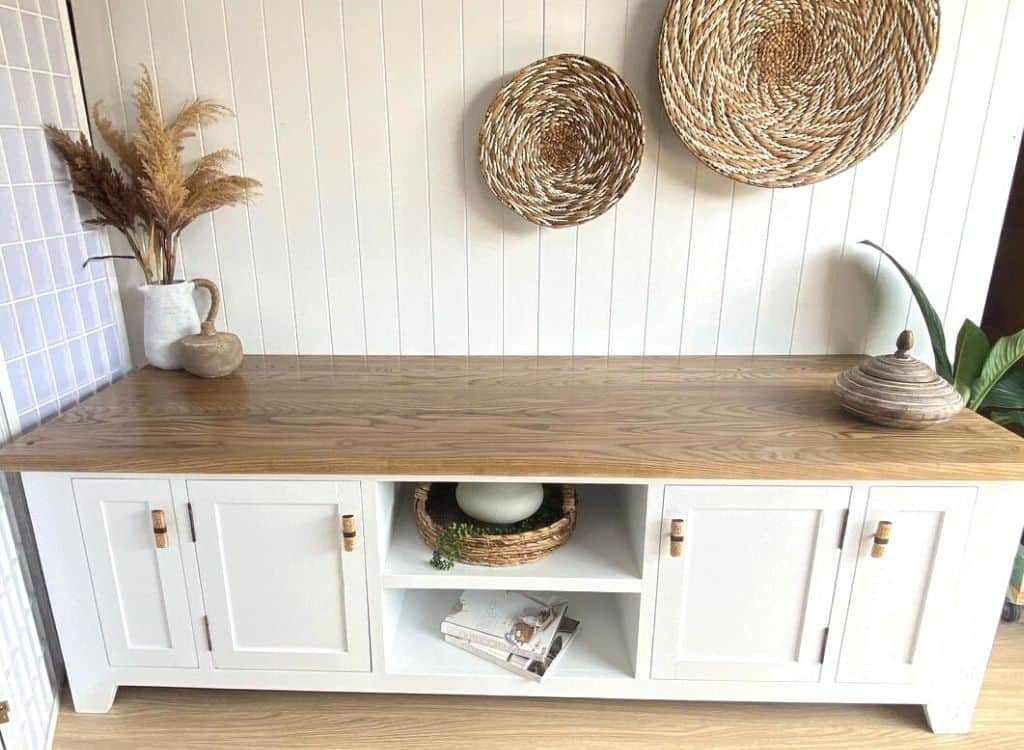 Which Do.Up products did you use and why did you choose them?
I have used a few different pulls and knobs and I love all of them but my favourite is definitely the Rattan T-Bar Pulls I used for that entertainment unit.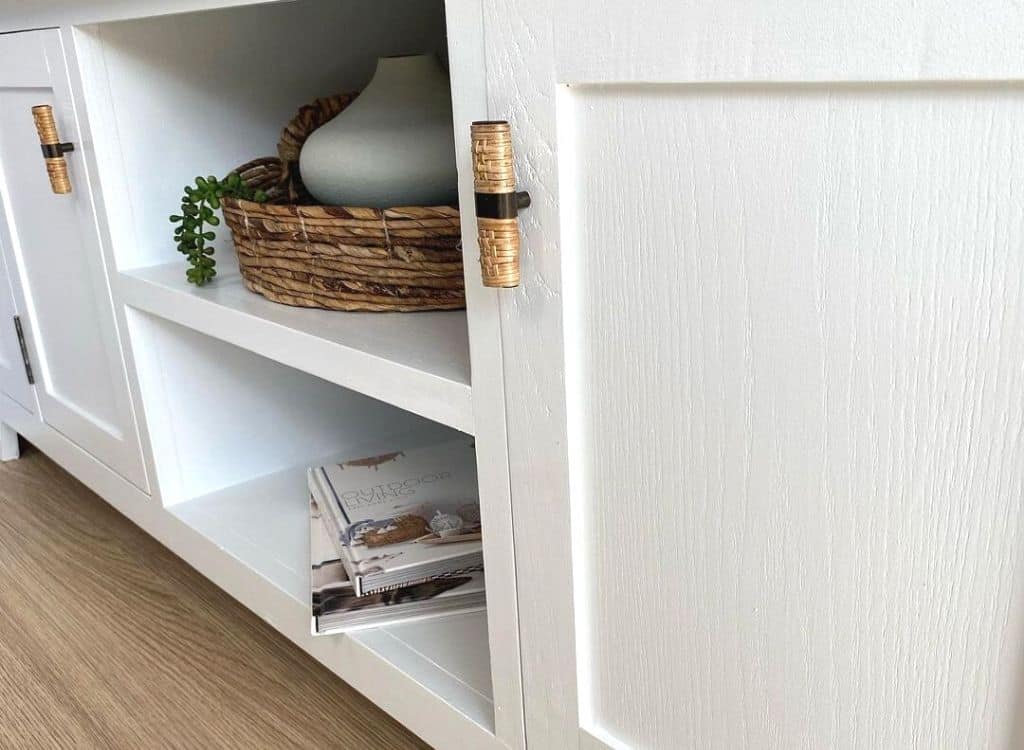 What draws you to use Do.Up products in your work?
I love the range, the quality and the ease of shopping online.
What are you working on next?
A dresser from the 1920'S. It's a challenge, but I love it!
Where can we find out more about you/ see more of your work?
You can find me on Instagram or Facebook for now.
Want to be 'chronicled' just like Tanya?
Nothing lights us up more than seeing how you incorporate Do. Up products into your DIY or upcycling creations. Next time you're hard at work, make sure you tag us on socials using @do.upper for your chance to be featured. Keep rejecting the ordinary legends, we love to see it!