Here at Do.Up. we pride ourselves in producing eco-friendly, sustainable home hardware that has a high impact on décor but a low impact on the environment. But what does sustainability mean exactly? Put simply, a product is considered sustainable if it (1) doesn't deplete natural, non-renewable resources, (2) doesn't directly harm the environment, and (3) wasn't made in a socially irresponsible way.
As a business we recognise the importance of sustainability and thus are deeply committed to expanding our use of sustainable materials because of their positive effect upon the planet. Many of our products are not manmade, are chemical-free and are all natural.
Need some sustainable home hardware options? Here are a few of our favourite untainted materials…
Mango Wood
Mango wood is a great go-to material that's sustainable and environmentally friendly. What makes it 'green' or sustainable you ask? Its fast growth and the incentive to replant it for both fruit and lumber. Did you know mango trees reach a massive height of 80-100 feet in just 15 years?! Compare this to the big, towering oaks that can take 50-100 years to mature.
When you use mango wood, you're doing your part to prevent the harvesting of teak and other at-risk woods. New mangoes are planted before the old ones stop bearing fruit, for a seamless cycle of planting and harvesting.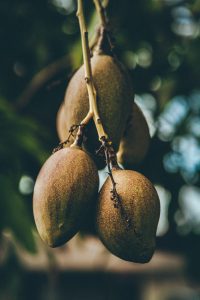 We love mango wood because it's sturdy, lustrous and extremely durable. The gorgeous wood is highly grained with rich swirls, streaks and stripes.
Marble
If you want a sustainable stone, choose marble. After all, the Parthenon is made of marble, and it's been around since 126 AD! Marble can be recycled and repurposed with absolutely no waste. Even better, it doesn't give off toxins that can harm the body.
Marble is one of our favourite all-natural materials. Each piece is a one-of-a-kind creation with its own unique colour and veining. Our vast marble range of drawer knobs, cabinet handles, pulls and wall hooks come in a multitude of shapes and designs and include accents of other complementing sustainable materials, such as mango wood and brass.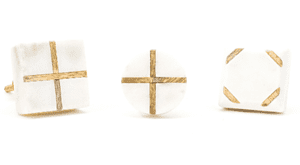 Rattan
Did you know that rattan is actually a vine? It can reach an astounding 200 metres and grows by twining itself around nearby trees. Because of this, the forest surrounding it stays undisturbed and protected. Rattan grows so quickly that it's self-replenishing and ready for harvesting every two years. This incredible material is entirely biodegradable and recyclable.
Rattan melds with other natural materials, and its texture is highly recognisable. As a matter of fact, it's currently one of the most in-demand and on-trend materials within the interior design industry right now. Our rattan pieces are unique, mindfully handcrafted and of exceptional quality.
Two of our best-selling pieces, our popular Rattan T-Bar Pull and Rattan Handle, bring warmth and naturalness to interiors. Their intricate weaves are enhanced by an understated, antiqued brass band, and both pair well with each other in eye-catching arrangements.
Jute
We're often asked, "What is jute?" Well, jute is a vegetable fibre whose popularity is only topped by cotton. It's exceptionally sustainable, sprinting to maturity in just 4-6 months. Products made from this amazing plant are 100 % recyclable and biodegradable. They're also extremely durable, outlasting items made from other fibres.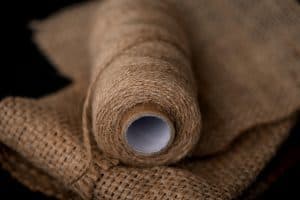 Jute is one of our favourite materials to add a natural element to décor. All of our jute items are high quality, one-of-a-kind handcrafted pieces.
In today's world, purchasing and producing sustainable and eco-friendly products is only becoming more and more significant. As you can see when it comes to furniture hardware, you have countless sustainable materials to choose from. These unique cabinet handles and drawer knobs not only protect our natural environment, but are high quality and look great, whilst being affordable!