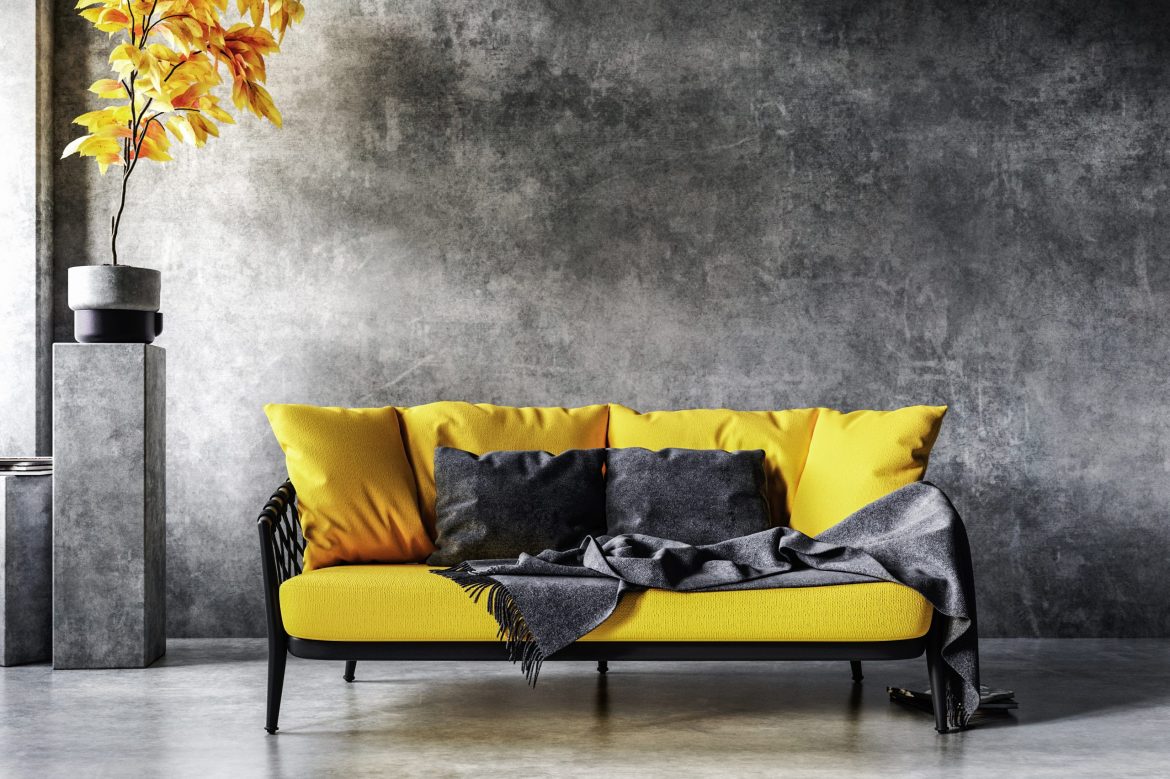 If colour elicits emotion, then Pantone's Colours of the Year for 2021 are destined to generate plenty of good feelings!
According to Laurie Pressman, Vice President of the Pantone Colour Institute, their new releases, 'Illuminating', a daffodil yellow and 'Ultimate Grey', a soft neutral, are "a combination that speaks to the resilience, the optimism and hope, and positivity that we need, as we reset, renew, reimagine and reinvent." It's a bit of light shining through this year's darkness.
Pantone's Colour of the Year has been going for more than 20 years and has continued to be incredibly powerful, influencing products across fashion, home furnishings, and industrial design.
Here at Do.Up. we celebrate Pantone's inspirational new colour duo in our unique, hand-crafted decorative cabinet hardware. Check out how we incorporate Ultimate Grey and Illuminating into some of our drawer knobs, cabinet handles and wall hooks. You'll love how they can add personality and beauty to your home décor.

Grey Marble and Brass Lined Handle and Knob
Our Grey Marble and Brass Lined Handle, along with our Marble and Brass Lined Knob, strike an eye-catching balance between grey and yellow. Richly veined grey marble is enlivened by slender bands of gleaming brass in both the brass knobs and door handles. Both are hand crafted, so you'll always get a unique piece. They'll look great in rooms with warm colours, and the rectangular handle can be installed either vertically or horizontally for great visual appeal. We think either position will look intriguing and stylish!
If you love this brass and grey marble design, we have a selection of drawer knobs in many shapes and sizes to beautify any area of your space. Check out our full range of marble and brass products here. They'd look amazing on kitchen drawers and kitchen cupboard doors as a striking statement element.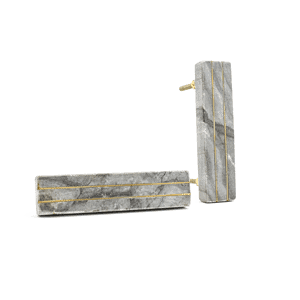 Round Green and Grey Terrazzo Knob
On-trend and up-to-the-minute, terrazzo stone is a subtle option to compliment either grey or yellow interiors. Our Round Green and Grey Terrazzo Knob, one of our personal favourites, features terrazzo in nuanced shades of grey and green. The knob's chips are scattered in an eye-catching mosaic sure to be a conversation-starter. Its muted tones make it compatible with any colour scheme! It's also available in hexagon and square shapes.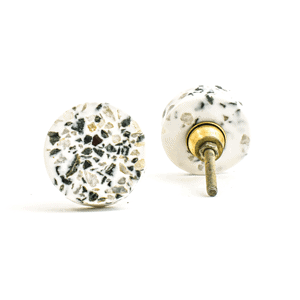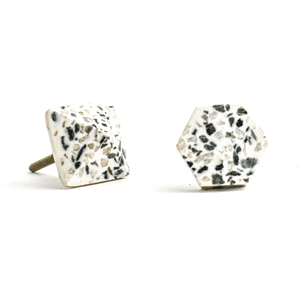 Grey Crystal Stone Brass Knob
This one's a real beauty! Bright, gleaming brass stylishly offsets sparkling grey crystal in our Grey Crystal Stone Brass Knob. It's a beautiful, versatile piece that would perfectly offset a formal room's drawer handles, or a casual area that you want to dress up. These cupboard knobs would also nicely embellish a refurbishing project for a luxurious look.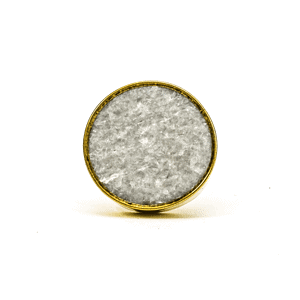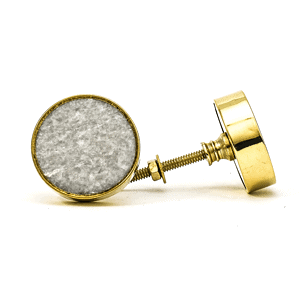 Yellow Iron Wall Hook
Our Yellow Iron Wall Hook is part practicality and part playfulness. A happy yellow, it can pull together accents such as yellow pillows and curtains. The hook can also easily work with large areas of grey for a vivid pop of colour. Use it as a coat hook, decorative wall hook or creatively arrange several as architectural statements to add a stylish element to your home!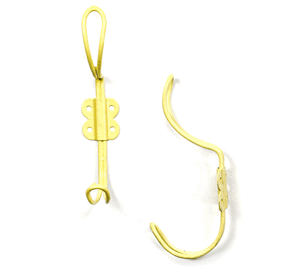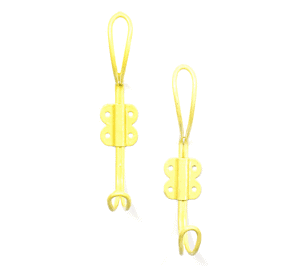 Illuminating and Ultimate Grey, Pantone's 2021 picks for Colours of the Year, make a beautiful, artistic statement when combined. Our many decorative yet practical home hardware items, including cabinet knobs and handles, and wall hooks, take cues from the pairing and can make a gorgeous, artistic statement in your home.
Have a browse at our range now and see how these colours can work for you!
*All items are hand crafted so you will always get a one-of-a-kind piece*