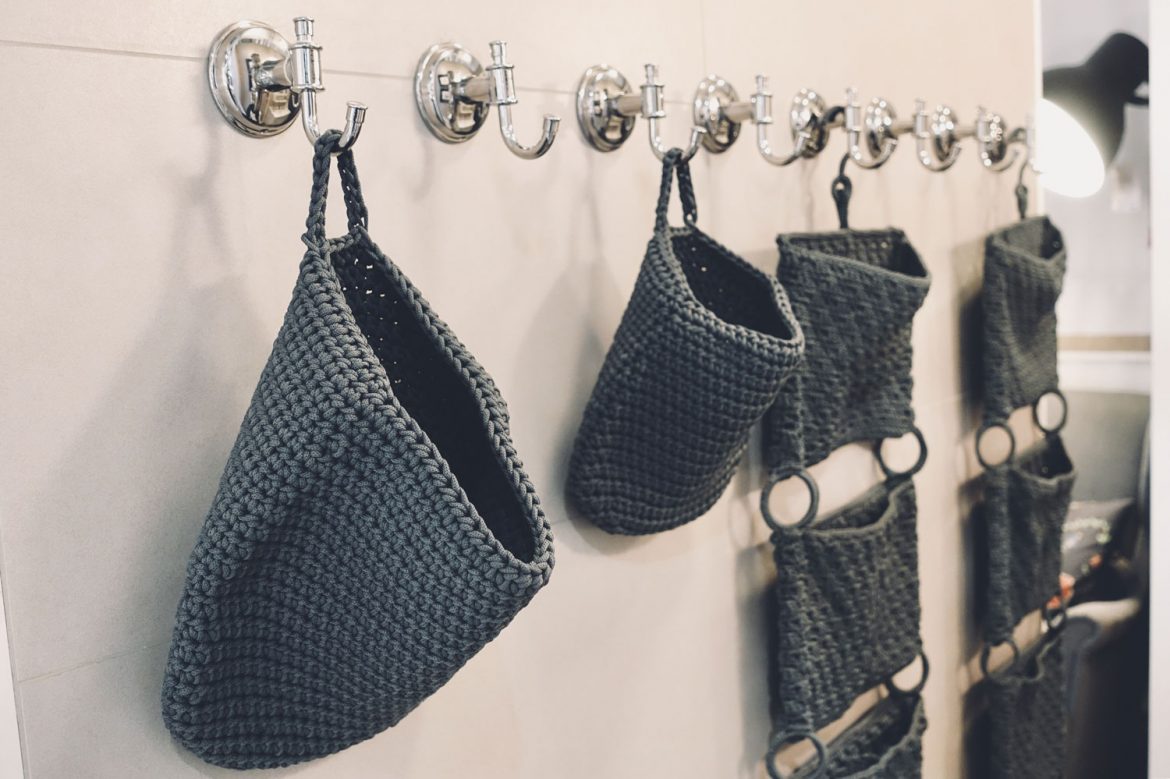 Sometimes getting organised is challenging, and it's even more challenging to get organised creatively. This is where home hardware from DoUp — particularly our wall hooks — can come in handy. Wall hooks are much more than bulls eyes for coats, jackets and sweaters. They can be expressions of creativity, imagination and innovation. Here are some fun, fresh, clever uses for wall hooks.
NECKLACE DISPLAY
Necklaces twist into knots that could baffle the hardiest sailor. Avoid this indecipherable tangle and create a pretty display by hanging necklaces from small wall hooks in the bedroom or bathroom. With the help of wall hooks your necklaces can be transformed into an art display. Hang your baubles in pleasing patterns on your wall. This creates a beautiful focal point for the room while freeing up storage space.
PAN HOLDERS
Those gorgeous copper pans that reside under the sink between the kitty litter and the disinfectant wipes deserve better. Showcase them on your kitchen or dining room wall, suspended from wall hooks arranged in a straight line or pattern. Most pans have a hole in their handle for ease of hanging. While you're on a roll you can also hang utensils, towels and potholders.
SHOE HANGERS
Clearing closet space is simple when wall hooks are used as shoe hangers. Simply knot one pair of shoelaces and loop them over the hook. You could hang several pairs on multiple hooks or only one to perk up a drab corner of a room.
CHRISTMAS STOCKING HOLDERS
No fireplace? No problem. You'll avoid Santa's naughty list by suspending your Christmas stockings from a row of festive wall hooks. Amp up the Christmas spirit by also using wall hooks to hang wreaths and garlands.
BATHROOM BASKETS
Need extra bathroom storage? Use wall hooks to hang wicker baskets in your bathroom. These multipurpose containers can hold shampoo, towels, tissues and toilet paper. It's a pretty and practical way to declutter.
CLEANING TOOLS
Do you have a drawer that's a junkyard or a kitchen cabinet that looks like a salvage heap? If things don't have a place, they're likely to just get tossed somewhere and turn into a jumbled mess. Hanging things such as flyswatters, ladles and spray bottles from wall hooks can restore order where there was chaos.
HANG YOUR TABLET
Mounted on hooks inside your kitchen cabinet doors, tablets can be conveniently located for reading recipes, checking out the headlines or feeding your NetFlix addiction. With wall hooks, tablets can keep you company just about anywhere — the workshop, bedside or when you're having a nice soak in the tub.
HAIR DRYER HANGER
Hair dryers are as cumbersome as they are useful. Of all the bathroom items, they're the most challenging to store. They're ungainly, strangely shaped and difficult to stow. Luckily, most dryers are designed with a plastic loop at the end of the handle so that they can be hung up. Hang your dryer on an eyecatching and practical wall hook inside of your vanity door and it will be easy to stash or grab.
HANG YOUR IRONING BOARD
Before you assume that we were getting desperate for ideas for this piece, wall hooks can quite capably perform domestic duties. Hanging your ironing board on wall hooks ousts clutter and increases space. It's neat and orderly, as well as smart and stylish.
It's easy to get hung up on wall hooks when there are so many fun, fresh and clever ways to use them. At DoUp Australia, we carry an inspiring collection of wall hooks, as well as artisan knobs, pulls, handles and curtain tie-backs. Is your imagination ready for a play date? Then check out our massive selection of home hardware by clicking here, and look forward to fun.