The humble kitchen isn't just a place to cook delicious food. It's also one of the main anchors for the overall design aesthetic of your home interiors. From the materials you embrace, to the home hardware (like cabinet handles) you choose to use, the style of kitchen says a lot about what you love, value and need at home.
For all of our Do.Uppers who love kitchen handles, cabinet handles and a fancy drawer pull – including those of you planning a kitchen reno or new installation – let's explore what your kitchen style says about you.
Featured: Silver Art Deco Fan Cabinet Knobs
Kitchen style is a matter of taste and function
Think of your kitchen as an extension of the rest of your home. It needs to be functional and do everything you need it to (obviously), but that doesn't mean it has to be bland. There's a world of design options when you go down the path of a particular kitchen style, including everything from bespoke tiles, colour palettes and cabinet hardware.
We believe it's all about the details. It doesn't matter if your style is more restrained with muted tones and subtle kitchen handles, or a little louder with bold colours and decorative drawer pulls (like our Summer Vibes Wooden Cabinet Knobs). Don't be scared to create something you love!
To show you what we mean, let's take a look at three specific design styles – plus some matching hardware, like cabinet handles – you can adopt and what they might say about your vibe.
Kitchen style 1: Marble & Brass
If you're drawn to this kitchen style, chances are you enjoy the finer things in life. Perhaps your home features a touch of 'Hollywood Glam' with a contemporary feel and you want a kitchen to match.
CABINET HANDLES TO MATCH THIS STYLE
Our top picks to really tie everything together are the Marble And Brass Cylinder Drawer Pull and the Marble And Brass Cylinder Cabinet Handles. Both are handcrafted from high quality materials and perfect finishing touches in your regal sanctuary.
Kitchen style 2: Mango Wood
Are you a fan of earthy tones, natural textures and the clean simplicity of Scandinavian design? Then, my friends, mango wood needs to be part of your kitchen style STAT. It's warm, sustainable and works beautifully with a range of colours and materials.
KITCHEN HANDLES TO MATCH THIS STYLE
We've made this part easy for you with our Mango Wood T-Bar Drawer Pull and Mango Wood Kitchen Handles. The slimline design means they're subtle, but don't be fooled: they're sturdy as heck. Add them to your cabinets or even an upcycled kitchen island (a great option for a weekend DIY project, too).
Kitchen style 3: Gunmetal Iron
For a more modern, sleek and industrial kitchen style, embrace the modern vibe of gunmetal iron. What we love about this material is how it grounds any space while also offering consistency in look and feel.
CABINET HANDLES TO MATCH THIS STYLE
To introduce a bit of industrial chic into your kitchen, check out our Sleek Gunmetal Iron Drawer Pull and Gunmetal Iron Cylinder Kitchen Handles. Want to take your gunmetal iron décor to the next level? Match your hardware with our Gunmetal Sleek Wall Hook to hang pots and pans, aprons and other items you use on the regular.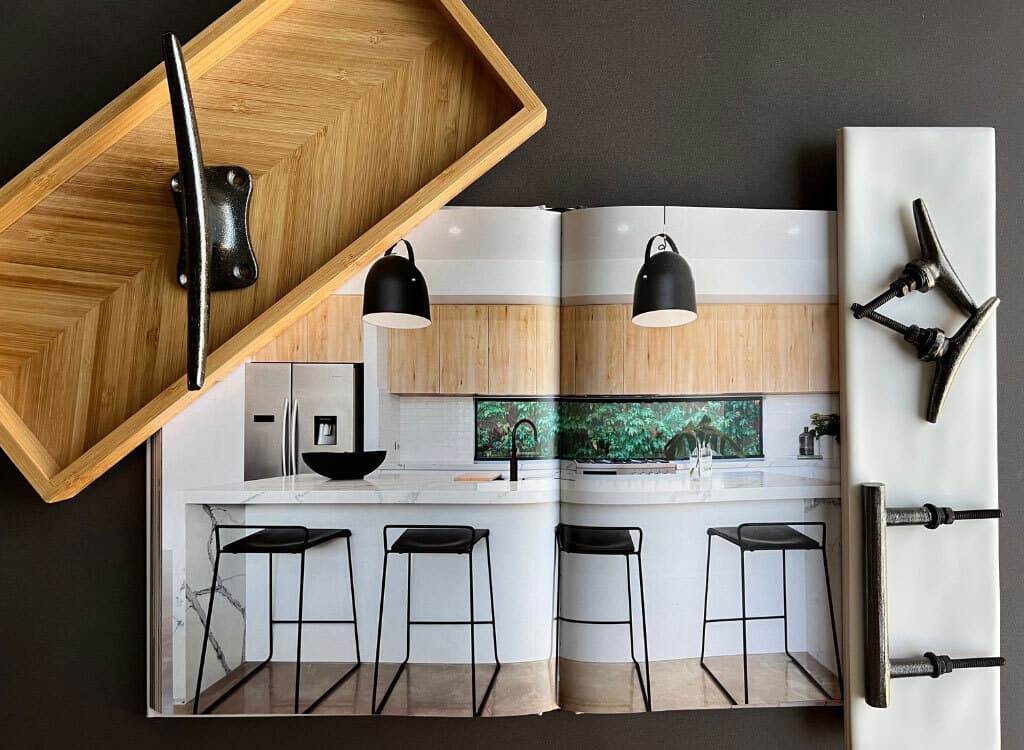 We've got a drawer pull and cabinet handles to match almost any kitchen style
Just like you, we're a bit eclectic here at Do.Up. It's why we do our best to source a wide variety of décor styles so you can transform your kitchen into something you not only want to use, but are also really proud of. But if your kitchen is all sorted, you might like to refresh your laundry room next with any number of kitchen handles or cabinet handles from our ever-growing online collection.