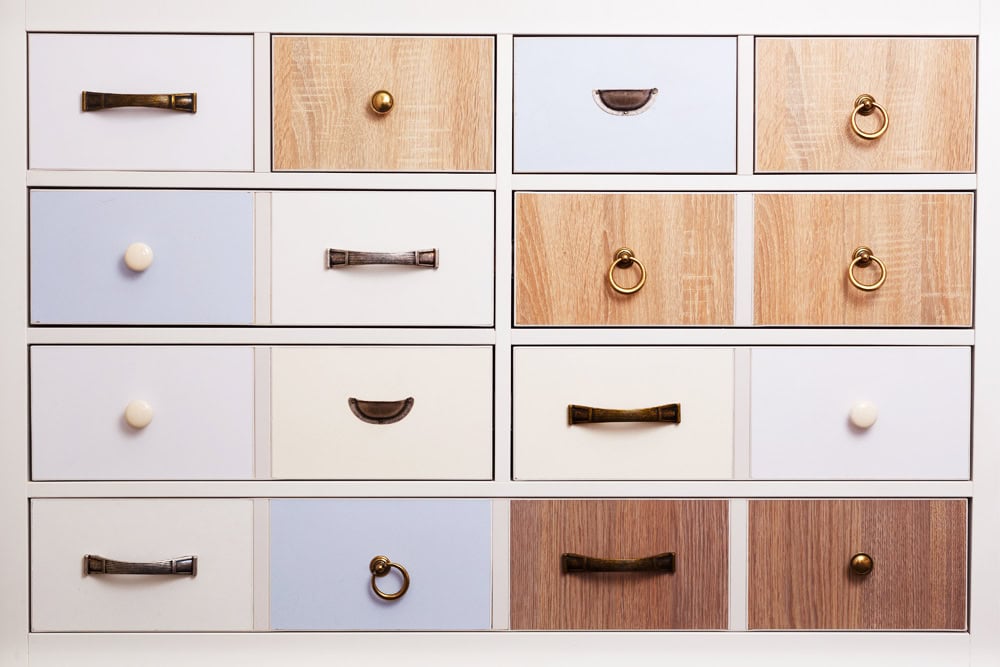 Choosing your cabinet hardware is one of the most important parts of finishing your kitchen. These choices will help establish the room's feel. The knobs and drawer pulls you choose for your kitchen can make or break the room's aesthetic. Finding the right hardware to match your cabinets' style can make your kitchen feel more homey. Whether you're installing a new set of cabinets, or simply seeking a refresher, there are some simple guidelines that can help you make great hardware choices.
Pulls Vs. Knobs: Some people prefer to use knobs for cabinets, and elongated pulls for drawers. Others use knobs for everything. But really, the choice is up to you. Kitchen knobs are often designed to complement drawer pulls manufactured by the same company. You really can't go wrong, no matter what option you choose. One note is that drawers generally need to have the knob in the center, while cabinets benefit from having the knob placed on the bottom corner, opposite the hinges. This is the most intuitive placement for ease of use.
Plenty of Choices: These days, there are tons of choices when it comes the color and texture of your cabinet knobs. Classic white ceramic knobs, carved wood, wrought iron and stainless steel are among the available options. There are also embellished kitchen knob options. Some people even design their own. An easy way to do this is to dot white ceramic knobs with different paint colors. If they're developed from the same original piece, these knobs will still register as a cohesive design. They'll just have added variation for visual interest.
Shapes and Sizes: Most cabinet knobs are circular in shape, and are about one inch in diameter. However, there are some striking choices that deviate from the norm. These include square knobs made to look like brushed stainless steel. There are also novelty knobs cast in the shape of starfish, sea horses, padlocks and other objects. Finally, some cabinet knobs are irregular and made from sections of stone or crystal. Agate knobs are popular with some designers. They bring a warm and natural look to any space.
The Latest Trends: These days, there are kitchen knobs that work with any trend. If you like a sleek, chic, contemporary work, there are simple metal knobs that work with that trend. If you're into the distressed look, vintage hardware salvaged from older furniture may be right for you. Another option is distressed hardware. Finally, never be afraid to DIY. You can customize your own knobs and pulls by using sandpaper, paint and by mixing and matching pieces.
Selecting cabinet hardware is a great way to personalize your kitchen. These days, there are more choices than ever before. Your kitchen can be as unique or anonymous as you'd like it to be. Whether you go sleek and upscale, or distressed and homey, cabinet hardware is the one accessory that will tie your whole kitchen together.