When styling your home, it's those finishing details that make all the difference. Curtain tie backs and holdbacks are perfect for bringing it all together – they can turn your windows into works of art, accentuate your décor and frame your view of the outside world.
To celebrate the launch of our latest collection of curtain tie backs and accompanying wall hooks, we thought we'd shine a light on this often underrated styling tool. Below, we'll show you how to use your curtain tie backs more effectively and how to dress them so they become a cornerstone feature of any room.
What are curtain tie backs?
In layman's terms, a curtain tie back is what gathers your curtains and holds them open. They can be made from a variety of different fabrics and designed in a multitude of different ways.
Featuring: Spiralled Cotton Tassel Curtain Tie Back
What's the difference between a curtain tie back and a curtain holdback?
When we're talking about curtain tie backs, we're typically referring to a piece of material or rope designed to tie your curtains back in place.
A curtain holdback, however, is a U-shaped piece of hardware affixed to the wall behind a curtain, used to 'hold back' curtains and keep them open. They're usually more rigid than a curtain tie back, made from wood, metal or iron.
How to tie curtain tassel tie backs
Let's use a real example here. Take our Natural and Black Jute Bell Curtain Tie Back and wrap it around your curtain. Pull the curtain open and place the looped ends of the tie back on your chosen hook on the wall next to your window frame. And voila – you've successfully used your curtain tie back!
Pro tip: You can adjust your curtain above the tie back to make your curtains hang loosely or look more drapey. If they're not draping the way you intended, your curtains might not be wide enough.

Featuring: Natural and Black Jute Bell Curtain Tie Back
Tips for how to dress curtains with tie backs
Our latest collection of tassel curtain tie backs brings the flavour of coastal bohemian home to you. With an array of patterns, textures and earthy materials – as well as new wall hooks to match – they can compliment even the most eclectic style.
Install curtain hooks, wall hooks or iron hooks
To take advantage of any curtain tie back, install a hook on the wall behind your curtain. From our latest product drop, check out the Small Black Iron Hook if you're creating a minimalist oasis. But if vintage or Art Deco is more your speed, you'll love either the Small Antique Gold Iron Hook or Antique Gold Double Hook.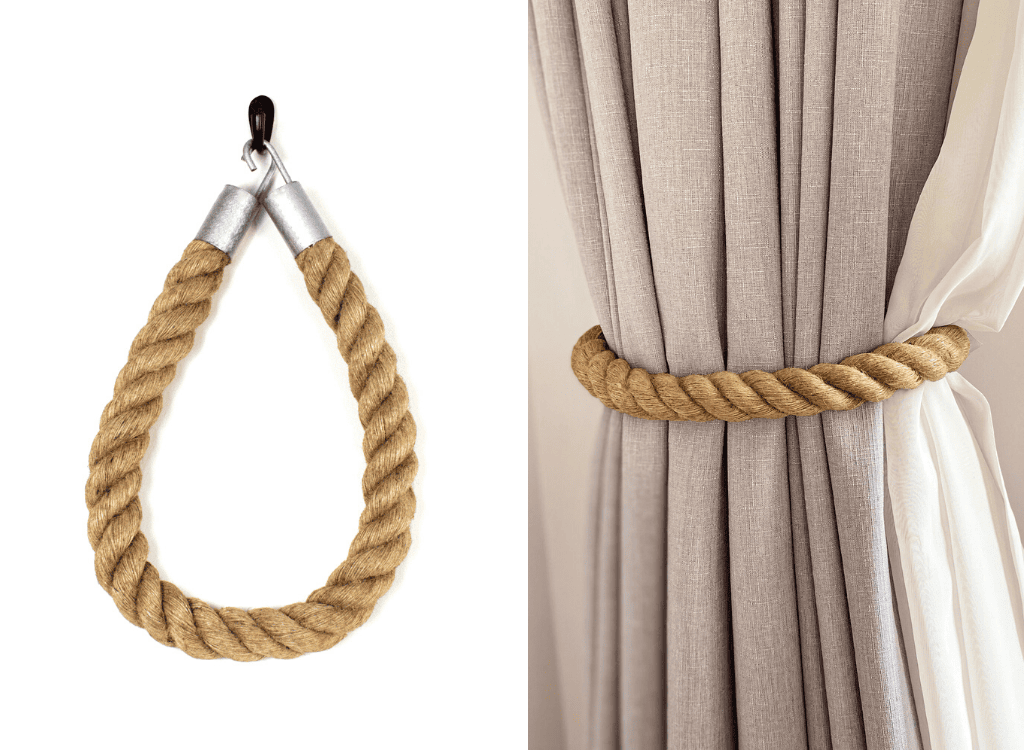 Featuring: Our Jute Rope Curtain Tie Back with Clasp and Small Black Iron Hook
Mix and match materials and textures
When it comes to styling, mixing textures or materials is a quick way to introduce variety into any space. We love our new Jute Rope Tie Back with Clasp or Cotton Rope Tie Back with Clasp for a simple yet natural addition to keep living room curtains in check.
For a Bali-esque escape, the Cotton and Mango Wood Tassel Curtain Tie Back would work beautifully with any rattan or wicker furniture. Or you might even like to add our Natural and Black Jute Ball Curtain Tie Back if you're going for a mix of minimalist and earthy vibes.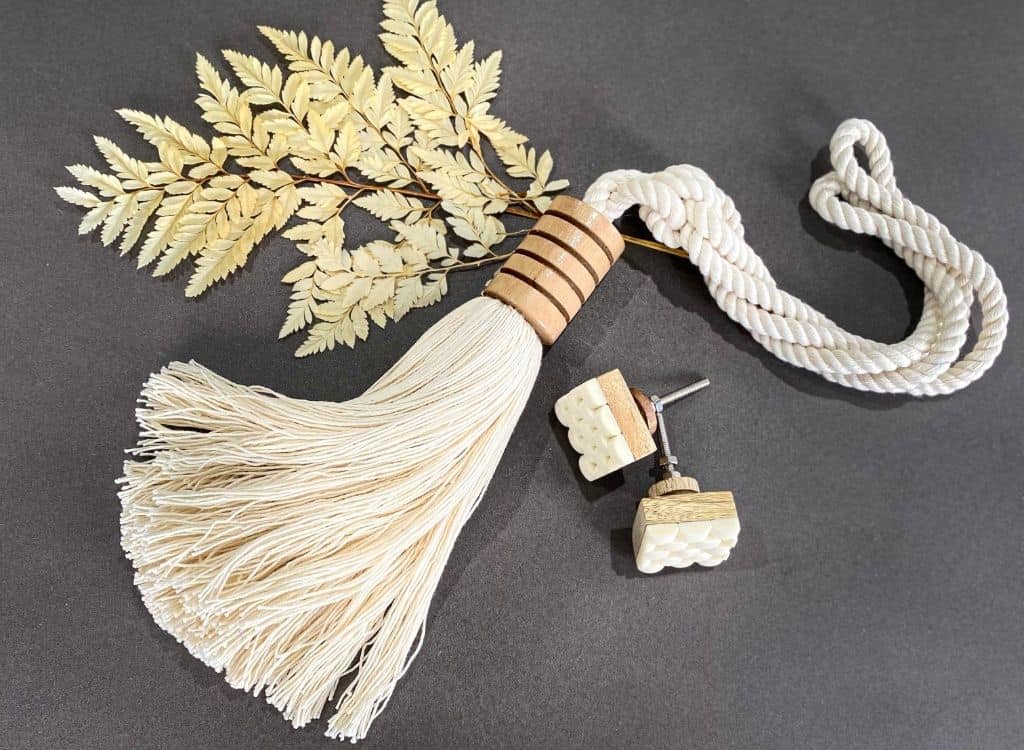 Featuring: Cotton and Mango Wood Tassel Curtain Tie Back paired with our Brick Road Knobs
Be bold and break the rules!
There are no concrete rules when it comes to curtain tie backs either – you can use any decorative wall hook, too. We think our Sea Green Crater Wall Hook is itching to be paired with either the new Small or Large Braided Cotton Curtain Tie Back, especially in a room that's decorated with plants.
Get the job done in style with us
When you're styling the home of your dream, don't forget to pay attention to all those little details. We're passionate about helping you reject the ordinary in every way, especially when it comes to DIY and upcycling. Explore our newest products and get a blast of inspiration – who knows where it might lead!