All that glitters isn't just gold – when it comes to your interior styling, there are other ways to add shine and sparkle where you want it most. Luminous, shimmering and luxe, we've fallen head over heels for mother of pearl (and we think you might too!). This earthy material may just be the answer to your next DIY project.   
What is mother of pearl?
Admired for its iridescent shimmer, mother of pearl is formed on the inside layer of specific mollusks, like oysters or mussels. Its scientific name is nacre and to make mother of pearl, the inner layer of shells is stripped and the resulting nacre is cut and shaped into a variety of different things, from earrings and necklaces to wall tiles and wallpaper. 
One thing we love about mother of pearl is that it's an all-natural, sustainable material. It has become more and more on-trend in interiors, especially for those easy breezy spring and summer months.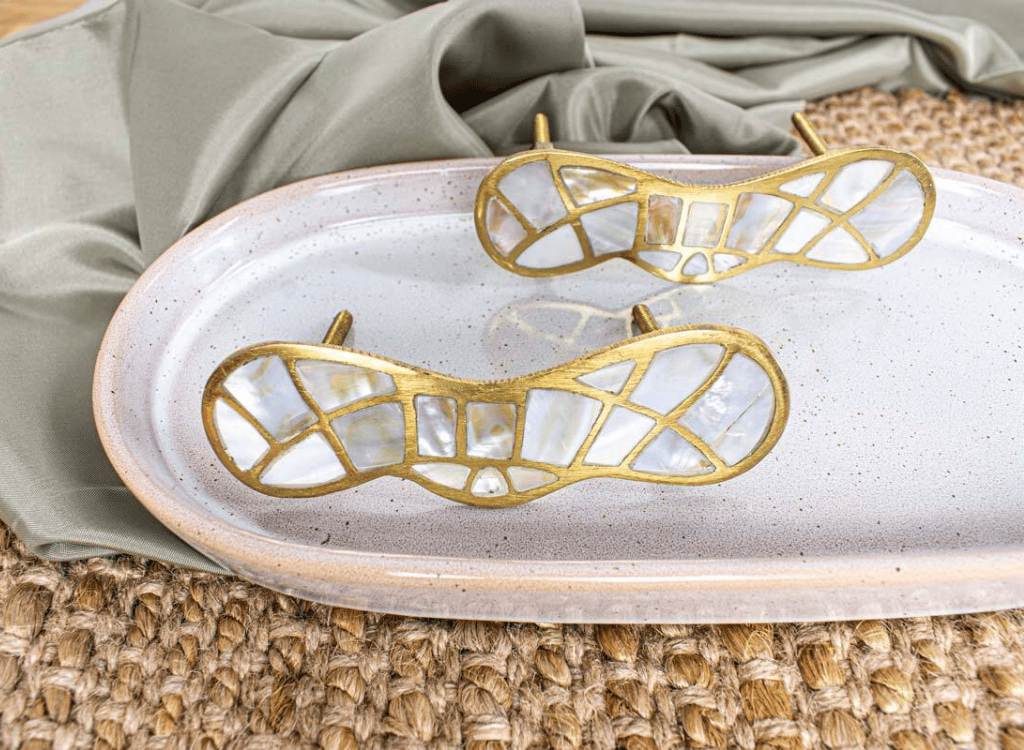 Featured: Gold and Shell Inlay Handle
How to add that 'mother of pearl glow' to your home décor
We think mother of pearl is like the 'Madonna' of home styling – it's super versatile, adaptable and eye-catching! It's a great option to keep in your DIY toolkit because it's always different; the process to extract and prepare mother of pearl for commercial use is painstaking and takes a long time, but the results are exquisite. 
Looking for a bit of #inspo? Check out a few tips we've dropped below on how you can harness this beautiful, shiny material around your home. 
Amplify your current interiors
Whether you're rolling with a minimalist aesthetic or something more contemporary and edgy, mother of pearl is a brilliant amplifier of style. Neutral in colour but with an undercurrent of luxury, it can be used in sinks, bathroom walls and mirrors to illuminate often underestimated spaces. 
Our favourite way to use mother of pearl is with coastal bohemian styling. To truly bring those beachy vibes full circle, incorporate even more natural materials, like shells and driftwood, into your home. 
A great place to start is in the details, like our Shell and Pompom Cotton Curtain Tiebacks. Adorned with seashells and made from biodegradable cotton, they'll keep your curtains in check and add a burst of boho to any space. We can almost feel that cool sea breeze whistling through right now *sigh*. 

Upcycle an old dresser with new knobs
If you've been around here for a little while now, you'll know we're big fans of repurposing the old and making it new. Take, for example, the dresser below. Spot our Mop Spinning Wheel Knobs on each drawer – they offset the warmth of the wood and perfectly compliment the vibe while also adding a touch of luxe.  

Double down on natural materials 
As a natural, sustainable material, mother of pearl contrasts brilliantly with other natural materials, like brass, mango wood, cotton or marble. Don't be afraid to double down on natural materials in your styling, especially when it comes to your hardware.

If you're planning a DIY kitchen renovation, here's a hot tip: mother of pearl tiles are a great option for your splash back. Consider matching it with a few of our Gold Diamond Inlay Wall Hooks to display your pots and pans, and finish up the job with our Mango Wood Handles for your drawers.  
Give your home a shimmering upgrade
We're excited to share a range of different knobs, cabinet handles, decorative wall hooks and pulls made with mother of pearl shells. If you dare to embrace this iridescent style, be sure to tag us on socials at @do.upper so we can say 'ooh' and 'ahhh' at what you create!