Ahh, nature – it's awe-inspiring, mystical and a powerful tool for healing and mental health. But it's not always possible to get out and immerse yourself in nature's high vibes, so why not bring the outside indoors by decorating with natural elements at home.
From the warm hues on your living room walls, to the feeling of a jute cabinet handle between your fingers on the kitchen drawer, natural elements can transform your home into a grounding sanctuary.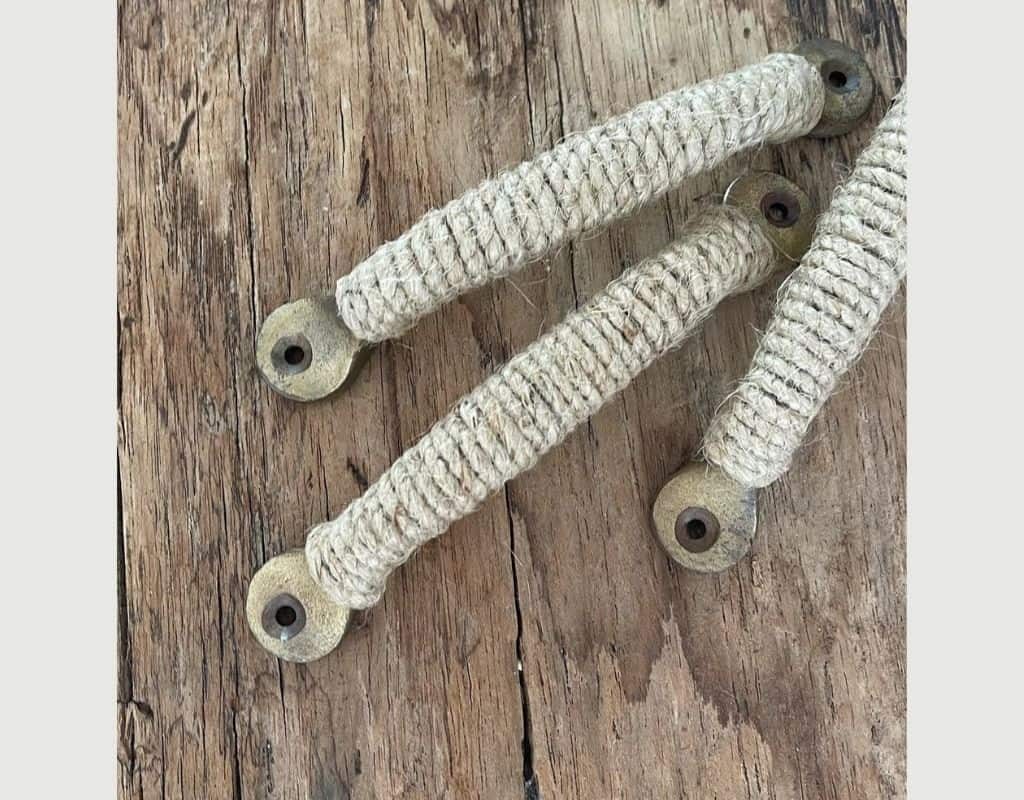 Featured: Jute Handle – Image by @sherrileereade
'Natural' means more than just organic
When you decorate with natural elements, you're actually being a little rebellious. At Do.Up, we reject the ordinary in every handcrafted, artisan cabinet pull and cabinet handle we bring you. Choosing 'natural' does the same thing as so many other people continue to buy mass-produced, generic items for their home without blinking (but we know you're different).
So let's get back to basics with these six tips.
1. Opt for neutral colours
Keeping the look and feel of your home more neutral or earthy is a quick way to call in the elements. Even small interjections into a space can make a big difference, just like how our Do.Up Green and Nougat Terrazzo Cabinet Handle do for this upcycling project by Tiarne and Joel from Cocospalms.
Note how the cabinet handles amplify the sleek and earthy tone set by the combination of grey tiles and industrial sink. Brava, friends!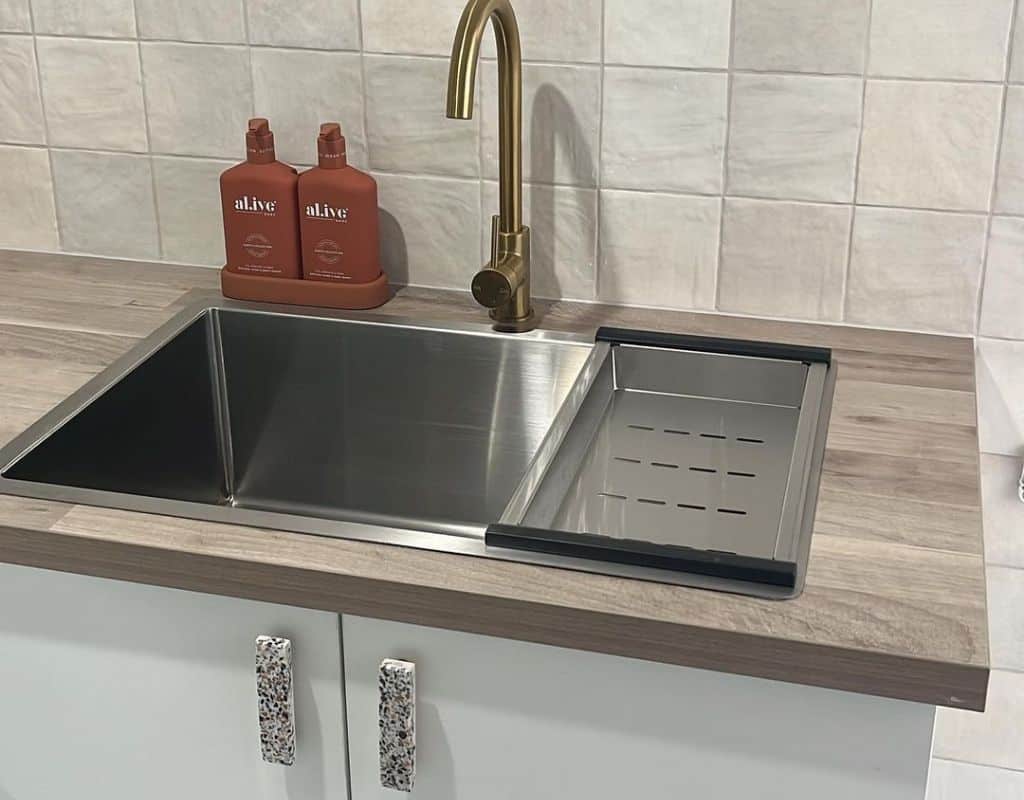 2. Think (and style) sustainably and upcycle with a cabinet pull
More than just a buzzword, thinking sustainably means planning for the long term, not just right now. Upcycling is a process that breathes new life into old furniture and is a sustainable hobby to pick up, especially if you're looking to decorate with natural elements.
One of our regular Do.Uppers Tanya – from Beachside Boho Designs – recently refreshed this gorgeous side table using our Black Cubed Cabinet Pull. After sanding and varnishing this beauty, she added the cabinet pulls to complete the look.

3. Embrace all the elements (curtain tie backs are QUEEN)
If you're a Millennial, you might remember Captain Planet and the Planeteers (that's right, we went there!). Essentially Gaia (Mother Earth), brings a team of people together whose powers (found in the rings they wear on their hands) combine to form the superhero Captain Planet. It's 90s nostalgia at its finest.
The reason we bring this up is that you can channel this energy into your home and embrace all the elements: fire, earth, water, wind and heart. Here's how:
Fire

: Arrange your favourite scented candles in various spots around your home, opting for essential oils and natural aromas.

Earth

: Grow your collection of 'plant babies' and

create a green room at home

,

turning any space into an indoor jungle.
Water

: Think indoor water features, like calming fountains or a small, zen rockpool to raise your chill levels.

Wind

: Use

curtain tie backs

to frame your windows and open up the shutters (a cool breeze can do wonders for your overall mood).

Heart

: Design spaces that prompt deep and meaningful conversations about what's truly important, especially at mealtimes (oh hell round dining table!).
4. Display fresh flowers everywhere
Why use fresh flowers at home? Well, first of all, YOU DESERVE IT. Second, flowers bring colour, life and beauty wherever they're displayed: from aromatic roses, to the boho chic of Australian botanicals. Treat yo'self friends, it's worth it!
5. Layer in natural textures
When you decorate with natural materials, accessories are where it's AT. Chunky throws, bobbly cushions, woven floor rugs, curtain tie backs – like our Triple Sphere Jute Curtain Tie Back – wicker baskets…the list goes on.
One material that's made a big splash back in fashion is rattan. You can spot our Rattan T-Bar Cabinet Pull in this natural, earthy flat lay by the legends at Little White Label. Rattan is warm, beautiful and as trendy as they come, so it's the perfect texture to when you're going a la natural.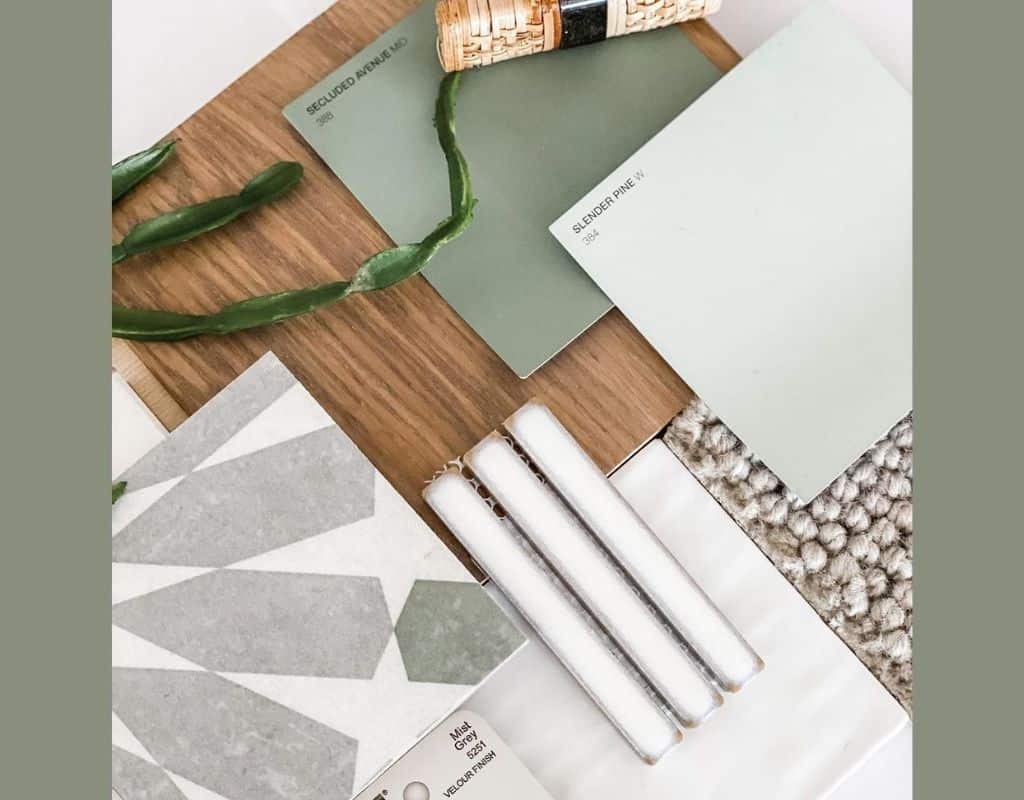 6. Choose nature-themed art
For all of our creative hearts out there, adding some nature-themed art to your walls (made by local artists of course) is a great way to let your personality shine through. Think deserts, waterfalls, animals, forests, beaches and more – plus, you'll also be supporting artists at the same time (what a win-win).
Get your fix of cabinet handles, curtain tie backs, cabinet pulls and more with us
Now that you've made the decision to turn your home into a natural sanctuary, check out our online shop for all the cabinet hardware you'll need to add those finishing touches. While we don't have any driftwood for your art installation, we do have a big selection of inspiring wall hooks, cabinet handles, cabinet pulls and more for just about any décor style.