Welcome to the second instalment of the Do.Upper Chronicles! This interview series heroes our amazing customers who use Do.Up cabinet handles, pulls, knobs and decorative wall hooks to spice up their decor. So pop the kettle on, get comfy in your favourite chair and get ready to be inspired by some of Australia's most enchanting Do.Uppers.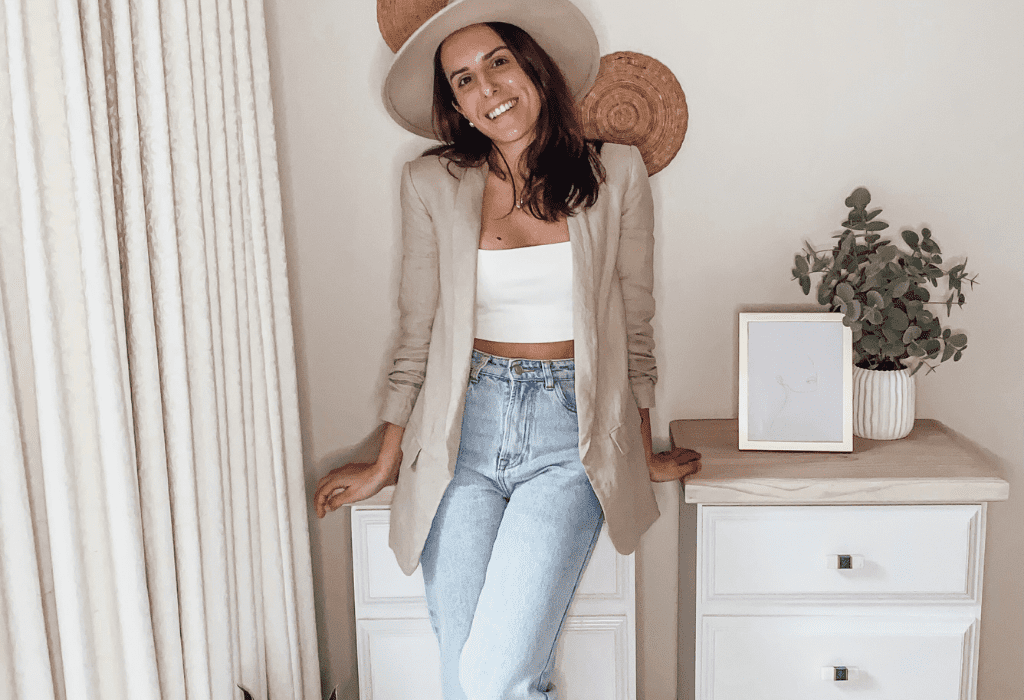 Based in Geelong, Victoria, Nina and her partner Rhys create beautiful things. They've built a loyal following online by sharing their upcycled furniture with the world, a passion that turned into a business in 2020 during the pandemic. They're dominating the DIY scene and it's easy to see why – they show us what's possible when you follow what lights you up.
Nina and her partner Rhys were both working full-time jobs before the pandemic hit, Nina as a retail manager on Chapel St and Rhys at Flight Centre as a travel agent. Feeling the weight of lockdown after losing their jobs, they decided to relocate to Northern Victoria to live with Rhys' parents. To pass the time, they started renovating the laundry room – and while they had zero experience in DIY, they did have plenty of time on their hands!
Fast forward to today, Nina and Rhys are now married and live in Geelong with a bunch of plants and a thriving business in Butch and Bulldog.We just love their aesthetic and approach to upcycling because it's a great example of what you can achieve when starting from scratch, and just how powerful a neutral palette can really be.
But enough from us – let's get the inside scoop from Nina!
Tell us 2 truths and lie about yourself? We'll keep the readers guessing on what 's the lie! 😉
Spanish is my first language

I won a beauty contest once

I have a brother 15 years younger than me.
What would you sing at Karaoke night?
Wannabe by Spice Girls, maybe I already did haha.
What is your proudest accomplishment?
Packing up my bags 7 years ago to move to a new country by myself. I didn't know what life had planned for me but I was willing to take the risk and enjoy the journey. Looking back now, I'm so thankful I did and that it took me to where I am today.
Aside from the necessities, what's one thing you couldn't live without?
Cream cheese! I have it on toast for breakfast every single day.
If you could live anywhere, where would it be?
I would love to live on an Island with the beach as my backyard.
Besides upcycling, what are your hobbies?
I love arts and crafts. I'm creative and like doing things with my hands. I'm an outgoing person and I like hanging out with friends and family. I enjoy going for walks and having a good cup of coffee.
How long have you been upcycling furniture?
A little bit more than a year now, since the start of the pandemic. It all started as a way to entertain ourselves, never thought it would become a business!
What's your favourite thing about upcycling?
I love that we are saving all these pieces from landfill and giving the furniture a fresh new life that the customers feel proud to have in their home. I love that it gives us a chance to be creative and put our personality into each piece.
How long does an average project take you to complete?
It depends on the size and condition of the piece and what work is involved, but I would say around 3-5 days.
What's your most treasured piece of furniture?
An old buffet I was gifted by a customer that she was going to take to the tip. I restored it, painted it in Sage Green and added some hessian to the doors. I have it in my Dining Room and it is such a statement piece – I love it.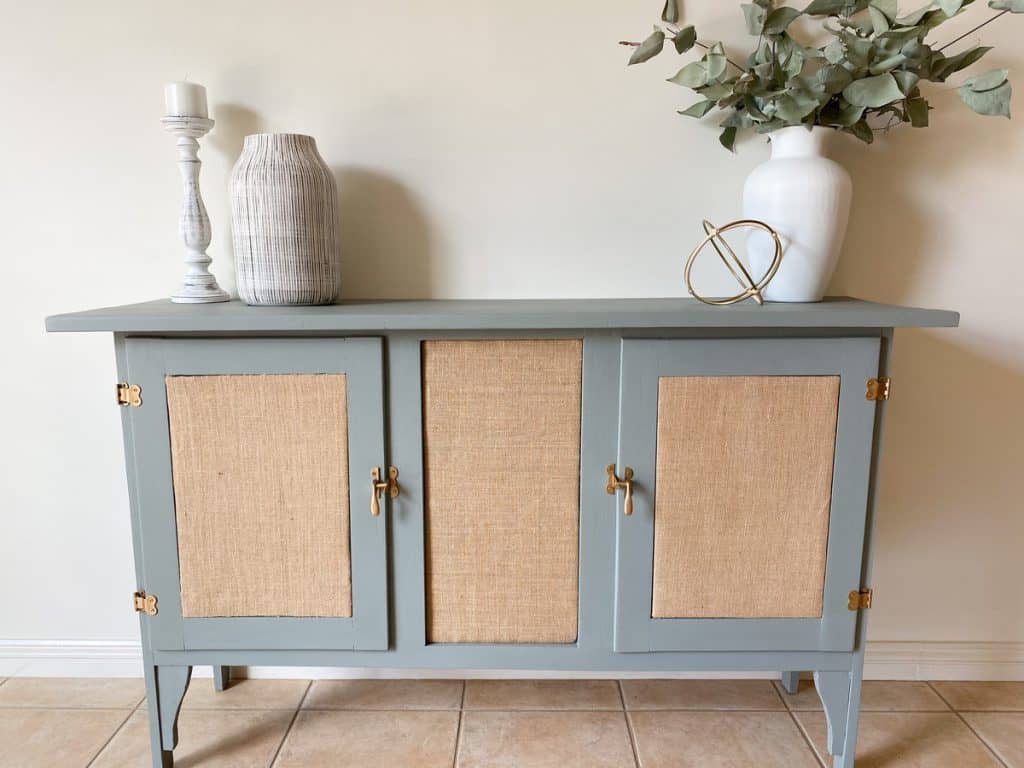 For your fellow upcyclers/DIY's/interior designers, what are your top do's?
Invest in good quality products

Do research

Ask questions

Learn from tutorials

Take the risk and enjoy the process!
How about the don'ts?
Don't get stressed or think you cannot do it

Don't skip steps

Don't go cheap, trust me, it will end up being more expensive.
Talk us through your recent project – what was your brief?
These bedside tables were screaming for help and I'm glad they landed in my hands! Someone tried to upcycle them before but used the wrong products so removing all that paint was hard work.
I sanded them back with an orbital sander, starting with a low grit and working my way up to a higher one. Once it was all sanded and cleaned, I primed the base and drawers and painted them with Dulux Aquanamel in Charmed White. I wanted to give the top a lighter look so I applied Feast Watson Liming White Stain and Varnish. Once they were ready, I added these beautiful pulls that make these bedside one of a kind.
BEFORE…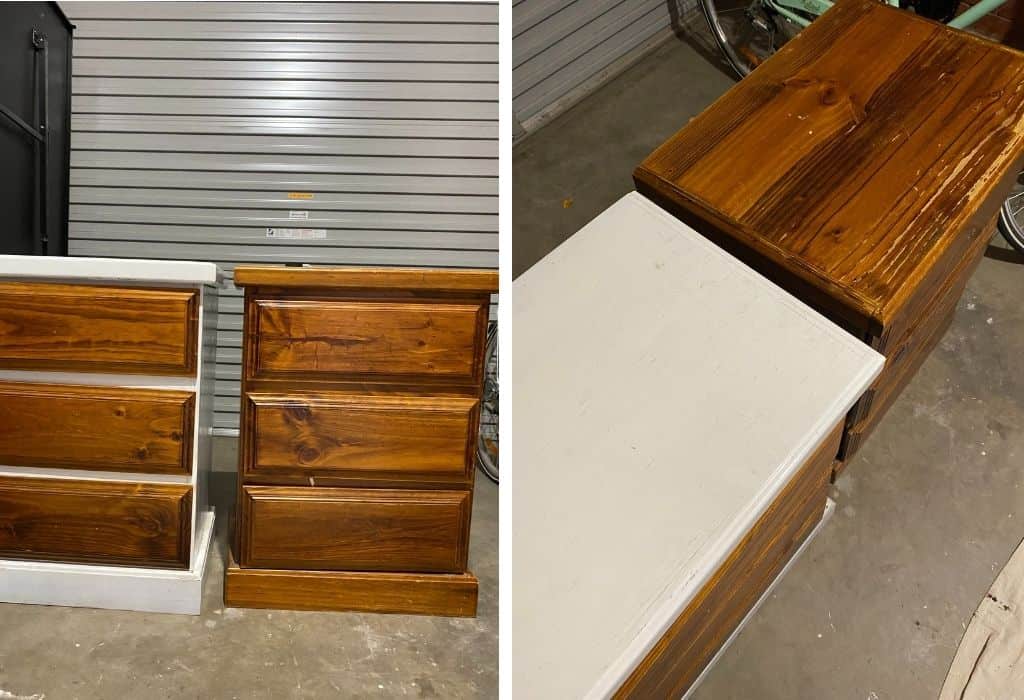 AND AFTER…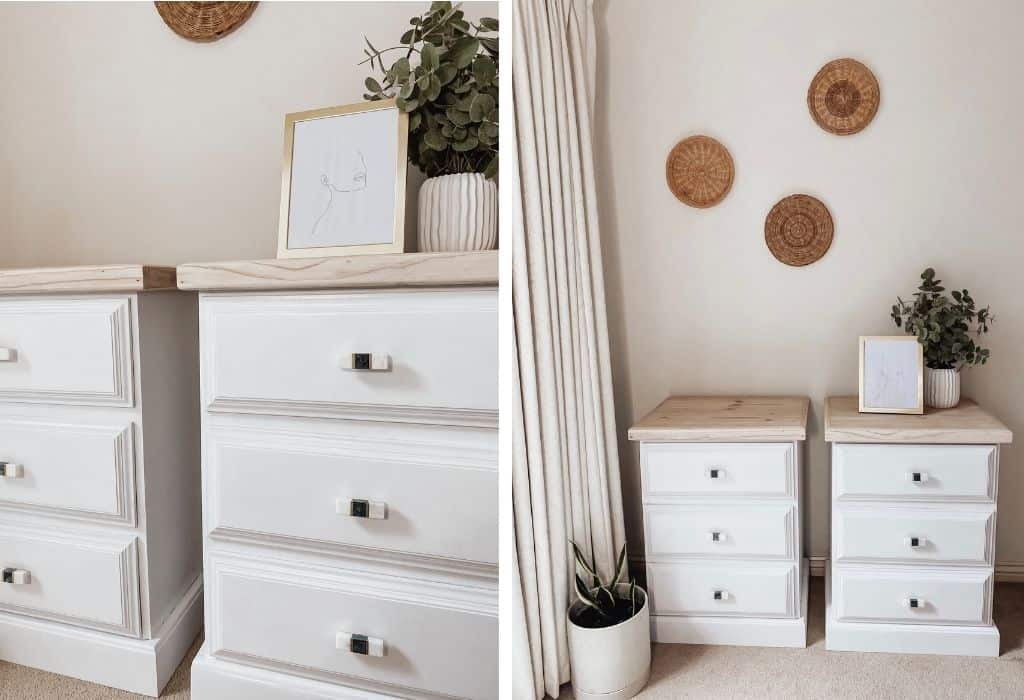 Which Do.Up products did you use and why did you choose them?
I chose the White Marble and Granite Pulls for their elegance and simplicity. The green, gold and marble work perfectly together and make such a statement on any piece.
What draws you to use Do.Up products in your work?
I love the uniqueness and variety. You can see the quality craftsmanship on each piece. They make any project stand out and add that 'wow' factor.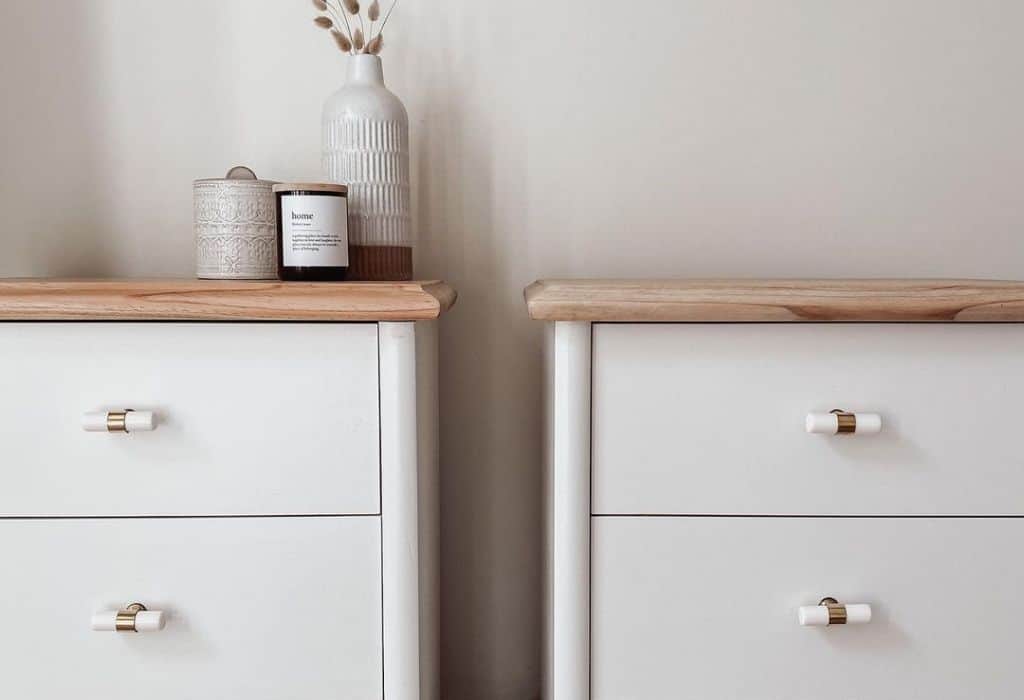 Featured: Creamy White Resin and Brass Pulls
What's your favourite material to work with?
Mineral paint or any paint that is not white! Lol, I do get really excited when I sand a piece back and I find a beautiful wood grain underneath the dark stain.
What's your favourite decor style?
Contemporary coastal style is my favourite. Natural colours and textures keep things bright and airy.
What trend do you hope makes a comeback?
Rustic Industrial style, metals, distressed woods and heavy hardware.
If you could master any DIY technique fully without having to learn it, what would it be?
Sewing! I took that many courses, went to fashion school and I'm still terrible. I would love to be able to make my own curtains, cushions, clothes… if I could do that, I'd be unstoppable.
Where can we find out more about you/ see more of your work?
Instagram is where I share most of my work and tutorials. I also share projects on my Facebook Page.
Want to get featured in our Do.Upper Chronicles?
At Do.Up, we're passionate about igniting your creative spark so you can reject the ordinary and update the furniture (and spaces) you love to reflect who you really are. So if, like Nina and Rhys, you (or someone you know) have caught the upcycling bug and created some incredible design and DIY that uses our products in creative ways, let us know.