Small Gold and Pearl Target Wall Hook
Small Gold and Pearl Target Wall Hook
64 in stock
Product Description
Our dainty Small Gold and Pearl Target Wall Hook creates convenient storage solutions and adds an aesthetic element to areas which can be overlooked. Beautifully handcrafted using mother of pearl and brass with a unique and eye-catching design. With a rich, organic lustre of real shell, the naturally reflective qualities and iridescent colours shift and shimmer when bathed with light. Its lustrous metal setting complements the shell's gleam! The beauty is that each wall hook has been handmade and supports its own unique character. A true artisanal piece, this decorative wall hook can uplift your décor with a tasteful, sophisticated touch. Use this modern and versatile wall hardware as a coat hook, decorative wall hook or simply as a way to add another stylish element to your home. Mix and match with other Pearl Wall Hooks from this collection.
All our hardware is handmade, they are not mass produced. This means there may be slight variances between each piece.
Dimensions
Height: 105mm approx
Projection: 50mm approx
Width: 40mm approx

*Installation Hardware Required
*Sold Individually
Produce Care
Wipe clean with a damp cloth and do not use any cleaning agents or chemicals.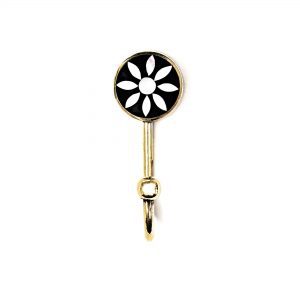 Wall Hooks
Gold
Polished Brass
Mother of Pearl
$

14.50