Round Bohemian Knob
Round Bohemian Knob
308 in stock
Product Description
Give an existing piece of furniture or kitchen cabinets a fresh update with our Round Bohemian Knob.
Handcrafted in a design that embraces the unusual, carefree and relaxed vibes of bohemian decor styling. The Bohemian knob has been skillfully made in a flower formation to be attention grabbing and transform any update into a work of art. The beauty is that each knob has been handmade and supports its own unique character. Perfect for updating a tired piece of furniture and giving it a complete new look! Try paring it up with the matching Small Cylinder Bohemian Carved Knob or mix and match with different styles. It's a fast, cost effective way to refresh your furniture knobs, dresser knobs, kitchen handles and turn it into a statement piece.
All our hardware is handmade, they are not mass produced. This means there may be slight variances between each piece.
Knob Dimensions:
4.5cm diameter approx.
2cm projection approx.
Bolt size: 3.1cm approx.
Bolt can be trimmed to size.
*Sold Individually
Produce Care
Wipe clean with a damp cloth and do not use any cleaning agents or chemicals.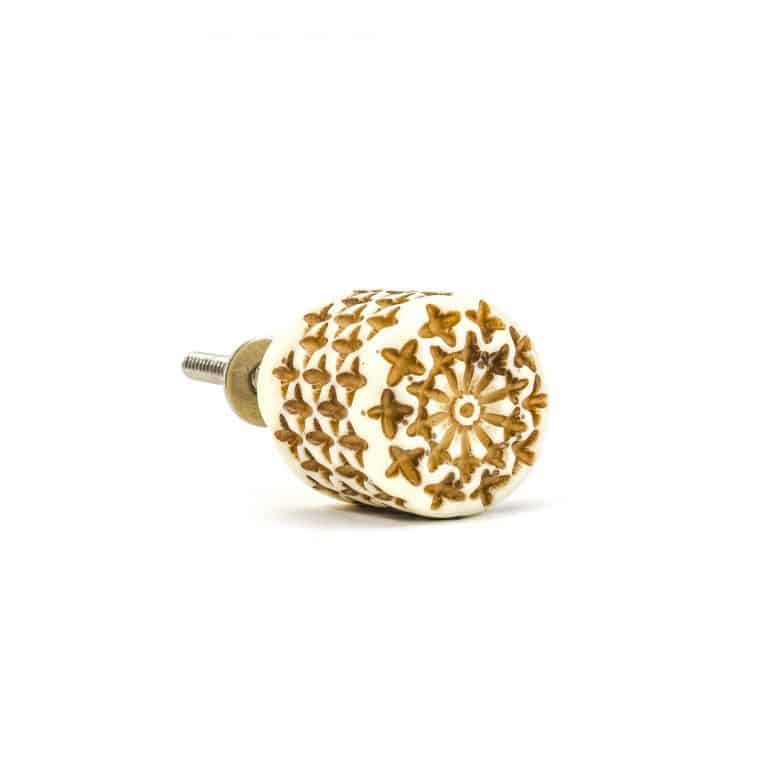 Knobs
Small
Cylindrical
Resin
Cream
Bohemian
$

9.50