Pink Rose Quartz Stone Knob
Pink Rose Quartz Stone Knob
345 in stock
Product Description
Give an existing piece of furniture or dresser drawers a fresh update with our Natural Pink Rose Quartz Stone Knob. This Quartz Knob is sliced to reveal beautiful patterns and colours within the natural stone. Each knob is one of a kind in colour tone and pattern that supports its own unique character. The Quartz Stone has been skilfully hand formed to be attention grabbing and transform any furniture update into a work of art. Pink Quartz stone is known to be great for feng shui and when used correctly and in the right places can assist with balance and harmony. Perfect for updating a tired piece of furniture and giving it a complete new look! It's a fast, cost effective way to refresh your furniture knobs, dresser knobs, kitchen handles and turn it into a statement piece.
All our hardware is handmade, they are not mass produced. This means there may be slight variances between each piece. Given this and the natural material of our Pink Rose Quartz Stone Knob, there will be variances between each piece in regards to their shape and colouring.
Dimensions
Diameter: 47mm to 64mm approx
Projection: 20mm approx
Bolt size: 55mm approx

*Bolt can be trimmed to size
*Tighten with care
Produce Care
Wipe clean with a damp cloth and do not use any cleaning agents or chemicals.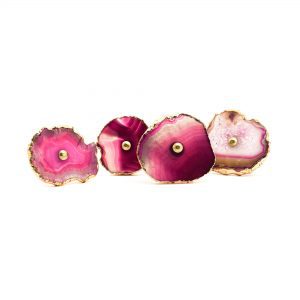 Knobs, SALE
Natural
Agate Stone
Gold
Pink
Mauve
Cream