Large Button Jute Knob
Large Button Jute Knob
165 in stock
Product Description
Give an existing piece of furniture, dresser or bedroom or bathroom drawers a modern update with our Large Button Jute Knob. Handcrafted in a design that is modern but also suiting to Traditional, Hamptons, Coastal or Boho styling. The Large Button Jute Knob is made from natural twine fibre and purposely not coloured to embrace the organic and rustic texture. Finished with a tiny centre button to compliment the natural and rustic design features. There is magic in the way natural elements can finish a space, a home or a cabinet. It's often the smallest details that often speak loudest, and natural materials can bring a new dimension to your home and make a unique impact.
Why jute? It's a durable, naturally grown eco-fibre that matures quickly and improves soil quality for other plants. Jute is highly sustainable and 100 percent biodegradable. Jute is one of our favourite materials to add an organic element to décor.
All our hardware is handmade, they are not mass produced. This means there may be slight variances between each piece.
*Sold Individually
Dimensions
Diameter: 40mm approx
Projection: 40mm approx
Bolt size: 35mm approx

*Bolts can be trimmed to size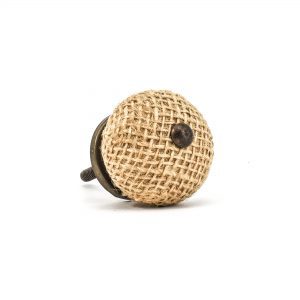 Knobs
Round
Natural Twine
Jute
Rustic
Organic Fibers
$

8.50