Slimline Mango Wood Handle
Slimline Mango Wood Handle
This product is out of stock - Join the waiting list to be emailed once this product is back in stock
Please enter a valid email!
Product Description
Our Slimline Mango Wood Handle brings the outdoors indoors with natural, eco-friendly material. This cabinet handle will add an organic aesthetic and eye-catching texture to your space. Use alone or with other textured items, such as woven rugs, rustic upholstery or grained cabinetry for a layered effect. Its striking detailing pairs perfectly with smooth surfaces for intriguing contrast. This sturdy drawer handle is framed by two gleaming brass bands which gives it a luxe look. Being mango wood, this handle is sourced entirely from natural elements, so each will have its own special design and character. Instantly transform your kitchen cabinetry, drawers, a refurbished dresser or end table and turn existing furniture into a statement piece! It's a versatile piece that can be used horizontally, vertically, or mixed and matched.
All our hardware is handmade, they are not mass produced. This means there may be slight variances between each piece.
*Sold Individually
Dimensions
Length: 150mm approx
Width: 13mm approx
Projection: 35mm approx
From bolt to bolt: 100mm approx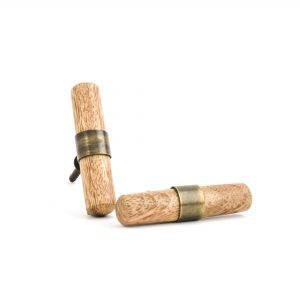 Pulls
Natural Wood
Pull
Brass
Modern Pull
Mango Wood
$

11.00