Iron Arrow Cabinet and Drawer Handle
Iron Arrow Cabinet and Drawer Handle
374 in stock
Product Description
Our Iron Arrow Cabinet and Drawer Handle is a décor element that's loaded with character. This cabinet handle is a fresh alternative to boring, ordinary handles and is sure to be a fascinating conversation starter. Its novel mixture of sleekness and whimsy makes it a natural focal point for your space. This handle cleverly fuses artistry with functionality for aesthetic charm, as well as practicality. It has a strong sculptural quality that adds texture and dimension to a room. Solid iron construction means that it will have longevity and easily endure years of pulling and pushing. This one-of-a-kind cupboard handle would be a great addition to a tired dresser or cabinets, or child's furniture. Suitable for a range of decor settings, including industrial, rustic and vintage.
All our hardware is handmade, they are not mass produced. This means there may be slight variances between each piece.
Dimensions
Diameter: 114mm approx
Projection: 26mm approx
From bolt to bolt: 60mm approx
Bolt size: 44mm approx
Produce Care
Wipe clean with a damp cloth and do not use any cleaning agents or chemicals.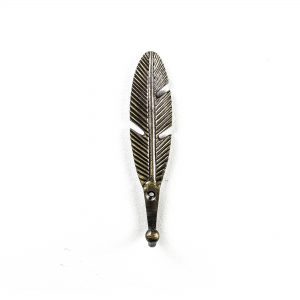 Wall Hooks
Antique Gold
Feather
Tribal
Decorative Wall Hook
$

14.50