Gold Iron Cylinder Handle
Gold Iron Cylinder Handle
This product is out of stock - Join the waiting list to be emailed once this product is back in stock
Please enter a valid email!
Product Description
Our Gold Iron Cylinder Handle is a cabinet handle that's uniquely attractive and built to last. Metal imparts a solid quality to a space and is a sustainable décor option that's completely recyclable. This cabinet handle is lustrous, with subtly contrasting texture that adds visual interest. Since iron is a neutral finish, you'll love how seamlessly it melds with any colour scheme. Irons also mix well with each other, so the possibilities are endless when you mingle this handle with other metallic hues. Metal is definitive of industrial styles, but it can also enhance a gamut of interiors from luxe to traditional to rustic.
All our hardware is handmade, they are not mass produced. This means there may be slight variances between each piece.
*Sold Individually
Dimensions
Length: 105mm approx
Width: 11mm approx
Projection: 31mm approx
From bolt to bolt: 72mm approx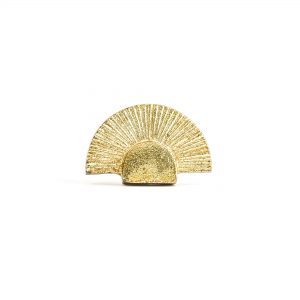 Knobs
Solid iron
Gold
Half Moon
Art Deco
Curved
Lines
$

9.50