White and Gold Basket Weave Knob
White and Gold Basket Weave Knob
855 in stock
Product Description
Give an existing piece of furniture or kitchen cabinets a fresh update with our White and Gold Basket Weave Knob. Handcrafted in a design that is modern, traditional, luxe and vintage all in one! The large round gold edging of the knob beautifully encases the white and gold weaved pattern. The sleekness of the metal is visually cold and clean but the wood finishing used at the back of the knob adds an element of warmth to the look. It's a perfect choice of hardware for a bold and eye-catching furniture update which is easy to incorporate in any decor setting. It's a fast, cost effective way to refresh your furniture knobs, dresser knobs, kitchen handles and turn it into a statement piece.
All our hardware is handmade, they are not mass produced. This means there may be slight variances between each piece.
Dimensions
Diameter: 45mm approx
Projection: 29mm approx
Bolt size: 31.7mm approx

*Sold individually
Produce Care
Wipe clean with a damp cloth and do not use any cleaning agents or chemicals.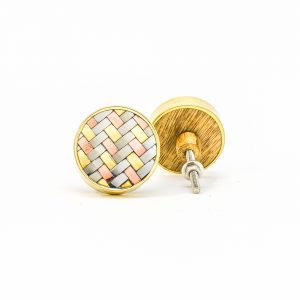 Knobs
Round
Copper
Brass
Silver
Weave
$

11.00