Gold Monochrome Leaf Knob
Gold Monochrome Leaf Knob
490 in stock
Product Description
Give an existing piece of furniture, dresser or cabinets a fresh update with our Gold Monochrome Leaf Knob. Handcrafted in a design that is modern, but also perfect for contemporary, traditional or rustic settings. The cabinet knob consists of a smooth resin face displaying a striking monochrome flower print. The large round gold edging of the knob beautifully encases the white and black pattern, drawing lots of attention. Our gorgeous white and black flower print is both timeless and neutral, thus a very versatile piece of hardware that'll never go out of fashion! The bold colour palette, teamed with smooth and sleek exterior, makes for a beautifully eye-catching cabinet knob! It would be the perfect addition to update a tired dresser or cabinets and give it a fresh new look! These knobs also double up as the perfect wall hooks if your after something a little different! Or why not mix and match with the Silver Monochrome Leaf Knob and create a space that's beautifully yours!
All our hardware is handmade, they are not mass produced. This means there may be slight variances between each piece.
*Sold Individually
Dimensions
Diameter: 45mm approx
Projection: 25mm approx
Bolt Length: 38mm approx

*Bolt can be trimmed to size
Produce Care
Wipe clean with a damp cloth and do not use any cleaning agents or chemicals.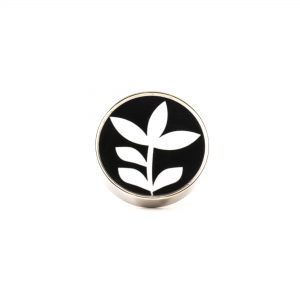 Knobs
Rabbit
White Ceramic
Themed Cabinet Knob
Nursery Decor
$

11.00