Gold Iron Crown Knob
Gold Iron Crown Knob
197 in stock
Product Description
Our Gold Iron Crown Knob has sleek, clean lines that impart a subtly striking embellishment to modern décor. Made of sturdy, lustrous iron, the cabinet knob will complement the metal elements of your space and pull them together for a tastefully coordinated look. Sprinkle these knobs throughout your home to add a pop of sparkle and shine to any modern, neutral colour scheme of black and white, brown, grey and taupe. This drawer knob has a strong presence and can hold its own amidst the sharp lines and angles of your home's modern architecture and décor. In a house brimming with earthy elements – wood, stone, leather, brick – this dresser knob will provide a stunning contrast without being showy. Will it work if you prefer contemporary décor? Absolutely!
All our hardware is handmade, they are not mass produced. This means there may be slight variances between each piece.
*Sold Individually
Dimensions
Diameter: 35mm approx
Projection: 32mm approx
Bolt size: 44mm approx

*Bolt can be trimmed to size
Produce Care
Wipe clean with a damp cloth and do not use any cleaning agents or chemicals.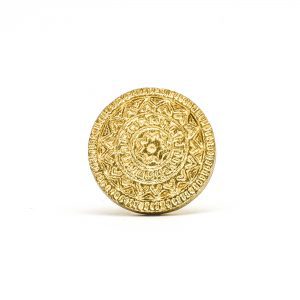 Knobs, Knobs, SALE
Solid iron
Gold
Round
Rustic appearance
Chiselled Detail
Star