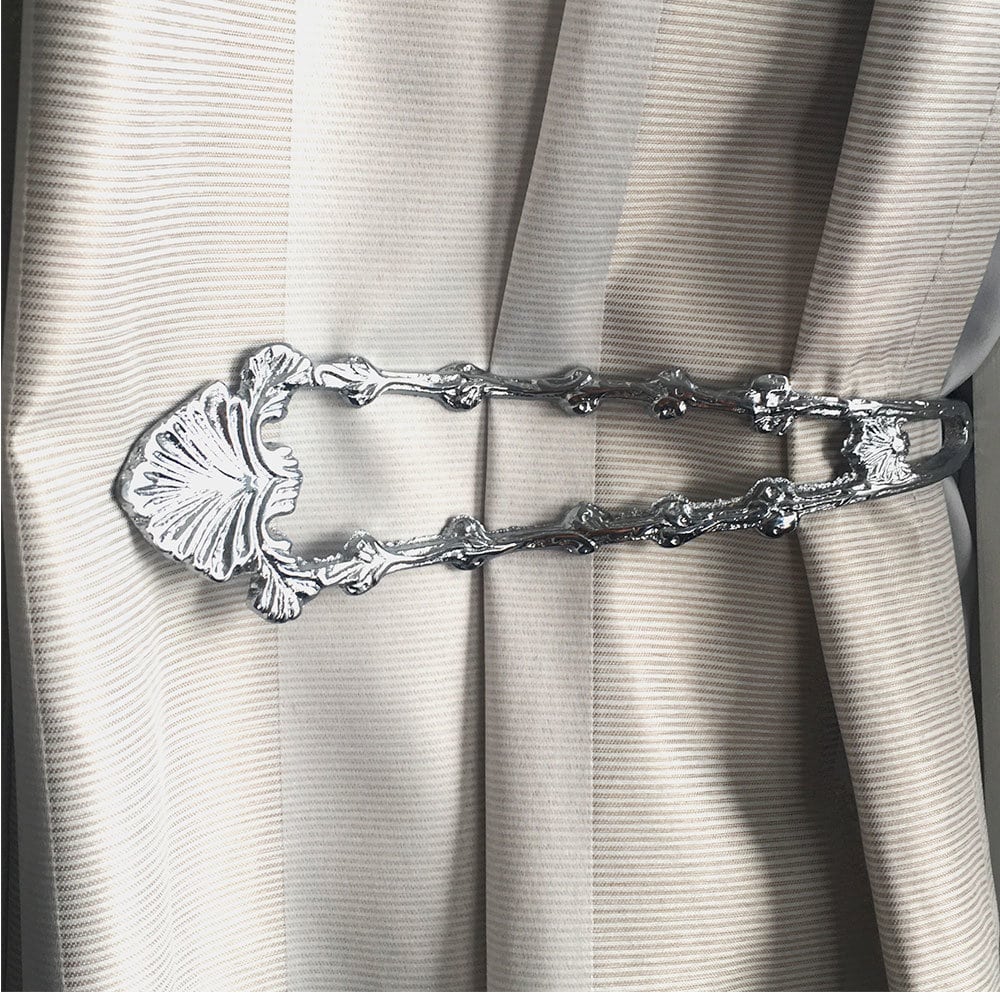 Are you wondering whether you should leave your curtains loose or tie them back? If you're interested in following the latest home décor trends, without a doubt, the answer to this question is that you should pull your curtains back using curtain holdbacks or similar curtain hardware.
Holdbacks and tie backs are suitable for use in traditional, transitional, contemporary and modern interior design schemes. You can use them with most of the up-to-date window styles that are being installed in today's homes. They complement many different styles of draperies and result in a chic, polished overall look. They're popular for use in children's bedrooms right now — especially in a girls' rooms, where fancy draperies can make the little one feel like a pretty princess in her royal castle.
Chic Curtain Tiebacks to Accentuate the Draperies for Double Hung Windows
Any of our stylish curtain tie backs would pair beautifully with the double-hung windows that are so desirable in modern and contemporary homes right now. If you're going for a modern look, try these star-shaped chrome holdbacks. For a more traditional look, try these embossed brass holdbacks.
Stylish Curtain Hardware for Dressing up Arched Windows
If your home includes arched windows that lead to a fabulous view, it's likely that you want the view to be the showstopper. Your draperies and curtain hardware are important aspects of the entire scene, but they shouldn't be the first thing you notice in the room.
One possible approach would be to leave the arched opening of the window bare and hang a straight curtain rod at a point directly below the arch. You can then use holdbacks or tiebacks to elegantly sculpt the flow of your draperies and accentuate the window's grandeur. We suggest these lovely spiral holdbacks as one possibility you'll want to consider for completing the look.
Elegant Curtain Holdbacks for Adorning Dramatic Recessed Windows
It can be tricky to find just the right window treatments for recessed windows. If you're decorating a recessed window that features seating, we suggest mounting the draperies slightly inside your window nook and securing them with curtain holdbacks that complete the look effortlessly.
Coordinate Your Curtain and Cabinet Hardware
These chrome cup pulls coordinate beautifully with our beaded chrome curtain holdacks. Our sleek, contemporary chrome handles are alternate choice that could work well.
If you prefer our modern style star-shaped brass tie backs, we suggest pairing them with these simple brass knobs. Of course, there are many other curtain and cabinet hardware pairings that would work wonderfully together — so please take a look around our online shop for many other creative possibilities.
Here at DoUp.com.au, we sell a variety of different hardware styles in addition to curtain tiebacks. Some of the other products we carry include cabinet knobs, cabinet pulls, wall hooks and cabinet handles in up-to-date fabrications such as brass, wood, glass and copper. We invite you to browse in our online shop for all your decorative hardware needs.