Wedged Grey Marble and Wood Pull Bar
Wedged Grey Marble and Wood Pull Bar
125 in stock
Product Description
Give an existing piece of furniture, cabinets, drawers a fresh update with our Wedged Grey Marble and Wood Pull Bar. Handcrafted in a design that is modern but also perfect for organic, Scandinavian, retro, rustic and industrial settings. This pull is made of a wedged natural timber centre with solid light grey marble ends to compliment the natural wood grain. The design of this cabinet pull is striking through the use of eco-friendly materials and a simple,  yet ergonomic design. Its exquisite marble veining creates surprising patterns that make each cabinet pull one-of-a-kind. Use this cabinet pull to create a fresh, unique aesthetic that's sure to start conversations and grab attention. When it comes to mixed materials, contrast is king! And we cannot think of a better duo than marble and wood! Instantly transform kitchen cupboards, chest of drawers or bathroom vanity into a showstopper!
All our hardware is handmade, they are not mass produced. This means there may be slight variances between each piece.
Dimensions
Diameter: 76mm approx
Projection: 30mm approx
Bolt size: 40mm approx

*Bolt can be trimmed to size

*Sold Individually
Produce Care
Wipe clean with a damp cloth and do not use any cleaning agents or chemicals.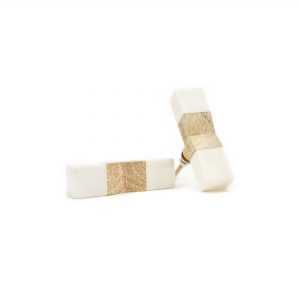 Pulls
Wood
Marble
Pull bar
Rectangle
Wedged Design
$

15.50