Vintage Green Glass Decorative Knob
Vintage Green Glass Decorative Knob
This product is out of stock - Join the waiting list to be emailed once this product is back in stock
Please enter a valid email!
Product Description
Give an existing piece of furniture, dresser or kitchen cabinets a fresh update with our Vintage Green Glass Decorative Knob. Handcrafted in a design using traditional techniques however very much on trend and suited to a variety of decor styles such as vintage, luxe, tradition, modern and boho. The clear green glass has decorative detailing and is perfectly paired with antique gold hardware which completes the look. Perfect for updating a tired piece of furniture and giving it a complete new look! It's the perfect choice of furniture hardware to instantly transform dressers or cabinets and turn them into unique and eye-catching pieces of furniture. These knobs also double up as the perfect wall hooks if your after something unique. It's a fast, cost effective way to refresh your furniture knobs, dresser knobs, kitchen handles and turn it into a statement piece.
All our hardware is handmade, they are not mass produced. This means there may be slight variances between each piece.
Knob Dimensions:
3.81cm diameter approx
3.81cm projection approx
Bolt Size: 3.17cm
*Sold Individually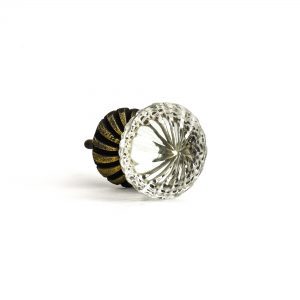 Knobs
Glass
Clear
Antique Gold
Vintage
$

9.90