Slate Blue Ceramic Disc Knob
Slate Blue Ceramic Disc Knob
114 in stock
Product Description
Give an existing piece of furniture or kitchen cabinets a fresh update with our Slate Blue Ceramic Disc Knob. Handcrafted in a modern design with a simplistic and vibrant colour palette that's both versatile and timeless! The cabinet knob's large, smooth, round face is both simple and elegant, making it a perfect addition to your cabinet doors or drawers! Our Slate Blue Ceramic Disc Knob combines sturdiness with artistic flair and is made of high-quality ceramic material. Trends may come and go, but ceramics are always in style. Ceramics are baked clay, and the properties of clay permit countless designs and colours. Clay contains abundant minerals and is sourced directly from the earth. It is durable and much more sustainable than plastics. After something a little different?! These cabinet knobs also double up as the perfect wall hooks if you're after something unique.
All our hardware is handmade, they are not mass produced. This means there may be slight variances between each piece.
*Sold Individually
Dimensions
Diameter: 40mm approx
Projection: 23mm approx
Bolt size: 32mm approx
Produce Care
Wipe clean with a damp cloth and do not use any cleaning agents or chemicals.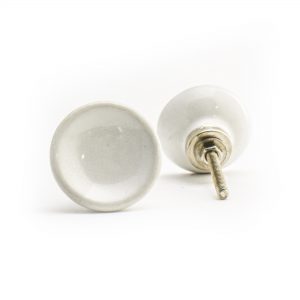 Knobs
Round
Ceramic
White
Circle
Modern
$

8.50