Black and Gold Emblem Knob
Black and Gold Emblem Knob
125 in stock
Product Description
Give an existing piece of furniture or dresser cabinets a stylish update with our Black and Gold Emblem Knob. Handcrafted in a modern design using ceramic. The cabinet knobs' smooth, glossy black centre and unique emblem shape promises to make a striking and sophisticated statement for your next DIY project. The gold outline accentuates the knob's shape, as well as adding to its sleek and luxe appearance. Our Black and Gold Emblem Knob is the perfect choice of furniture hardware to instantly transform dressers or cabinets and turn them into unique and eye-catching pieces of furniture. This neutral and versatile cabinet knob would be suitable to an array of decor settings and colour palettes.
All our hardware is handmade, they are not mass produced. This means there may be slight variances between each piece.
*Sold Individually
Dimensions
Diameter: 45mm approx
Projection: 31mm approx
Bolt size: 40mm approx

*Bolt can be trimmed to size
Produce Care
Wipe clean with a damp cloth and do not use any cleaning agents or chemicals.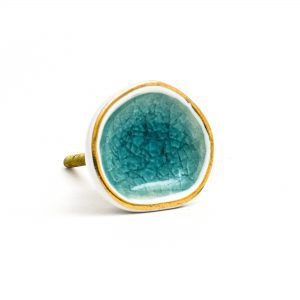 Knobs
Crater
Green / Turquoise
Gold rim
$

10.50