Antiqued Gold and Pearl Honeycomb Knob
Antiqued Gold and Pearl Honeycomb Knob
27 in stock
or 4 fortnightly payments of $2.61 with
More info
Product Description
Give an existing piece of furniture or kitchen cabinets a fresh update with our Antiqued Gold and Pearl Honeycomb Knob. Handcrafted in a design that is classic and suiting to traditional, luxe and vintage styling. The aged gold and mother of pearl design has been skillfully formed to be attention grabbing and transform any update into a work of art. The beauty is that each knob has been handmade and supports its own unique character. Perfect for updating a tired piece of furniture and giving it a complete new look! It's a fast, cost effective way to refresh your furniture knobs, dresser knobs, kitchen handles and turn it into a statement piece.
All our hardware is handmade, they are not mass produced. This means there may be slight variances between each piece.
Knob Dimensions:
3.81cm diameter approx.
3.55cm projection approx.
Bolt size: 3.81cm approx.
Bolt can be trimmed to size.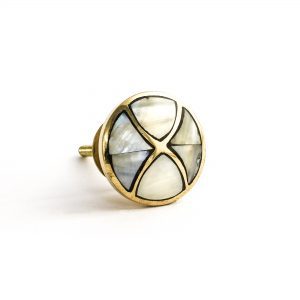 Knobs
Shell
Brass
Infinity Design
Cabinet Knob
$

10.45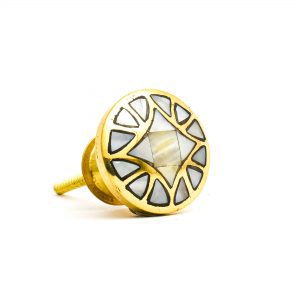 Knobs
Brass
Gold
Mother of Pearl
Round Knob
Inlay
$

10.45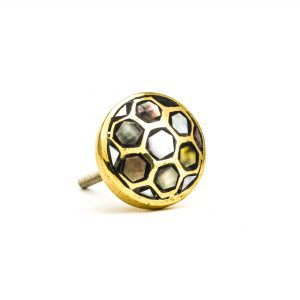 Knobs
Black Shell
Brass
Gold
Honeycomb design
$

10.45